Wilderness Survival Courses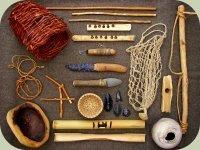 Alderleaf offers a variety of wilderness survival courses. Learn outdoor survival skills, bushcraft, primitive skills, and self sufficiency. Choose from weekend classes, week-long courses, nine-month training programs, or an online course.
Alderleaf teaches both primitive and modern wilderness survival skills that empower people to be prepared and at home in the outdoors.
Courses include:
Essential Wilderness Survival Skills (Online Course) - Learn the core skills of survival in a format that allows you to participate at your own pace.
Survival Skills Webclass (Online Webinar) - Discover four secrets to surviving in the outdoors without gear or supplies.
Weekend Wilderness Survival Course - Learn the most important skills for survival: shelter, water, fire and food. Gain practical, hands-on experience.
Half-Day Survival Fire Making Skills Class - Learn how to create fire with natural materials. Gain experience with bow drill, hand drill, and flint & steel.
One-Day Survival Knots, Cordage, & Lashings Class - Learn how to make cordage and tie the most useful knots for survival skills projects.
Weekend Stone Tools & Flintknapping Course - Learn how to make spear points, arrow points, knives, and a variety of other stone tools.

3-Day Bow Making Course - Learn how to make a wooden long bow. Build and take home a hickory bow and the skills to make more.
3-Day Knife Making Course - Learn how to make a knife; including stock removal, heat‐treating, wooden handle & leather sheath making, and sharpening.
5-Day Wilderness Survival Skills Intensive - Spend five full days immersed in studying outdoor survival skills. Detailed instruction and hands-on practice.
Weekend Blacksmithing Course - Forge your own knife while learning steel selection, basic metallurgy, profiling, heat‐treating, grinding, and more.
3-Day Leatherworking Course - Make your own moccasin-style leather shoes, felted boots, or a leather backpack in this leatherworking skills class.
Nine-Month Alderleaf Wilderness Certification Program - Our most comprehensive course. Training in survival, nature skills, and sustainability.
Nine-Month Advanced Wilderness Skills Program - A second year of advanced nature and survival training for Certification Program graduates.
Weekend Primitive Hunting Tools Course - Learn how to build an atlatl, bola, rabbit stick, sling, and quickie survival bow at this course.
Weekend Survival & Tracking for Hunters - Learn wilderness survival and wildlife tracking skills specifically applicable to hunting.
Weekend Overnight Survival Course - Learn more survival skills and put them to practice in a guided overnight survival experience.

3-Day Brain Tanning Course - Learn how to turn animal hides into beautiful brain-tanned leather for clothing and survival projects.
Weekend Axe Forging Course - Learn basic metallurgy, forging, heat treating, and hafting while you produce a backcountry axe to take home.

Weekend Arrow Making Course - Learn about forging arrowheads, shafting materials, hafting, cutting self nocks, fletching, and more.
---
Online registration is available for many of our wilderness courses.
Visit the Course Registration page to sign up for classes.


---
Sign up to the Alderleaf eNewsletter to receive updates on
new wilderness courses and nature skills articles.
---

For information on other wilderness survival schools around the world, visit hollowtop.com.


---
Return from Wilderness Survival Courses back to All Courses

---
---
---

Grow Your Outdoor Skills! Get monthly updates on new wilderness skills, upcoming courses, and special opportunities. Join the free Alderleaf eNews and as a welcome gift you'll get a copy of our Mini Survival Guide.