Brain Tanning Course
Brain Tanning Course Details:
Dates: TBD, 2019
Duration: 9am Fri - 4pm Sun
Location: Monroe, WA
Instructor: Katie Russell
Cost: $300
Register
Believe it or not, all of our ancestors wore brain-tanned buckskin. From primitive, hunter-gatherers to the early American pioneers, buckskin was a universal material for clothing, rope, footwear, etc. In this three day course you will learn to transform a raw, somewhat unappealing deerskin into soft, luxurious buckskin.
Over three days we will scrape the skins clean, soak them in a bucking solution, rinse them, soak them in a brain solution and stretch them until they are soft and dry. Finally we will smoke the skins, turning them golden brown and preserving them as buckskin.


---
In this course you will:
Get a skinned deer hide and be guided through working it into a beautiful brain-tanned buckskin to take home

Learn fleshing, graining, and scraping techniques for working with a skinned hide
Come to understand the braining, softening, and smoking processes for finishing a raw hide
Gain experience with each of the tools and steps involved with hide-working
Learn about the many survival uses of brain-tanned buckskin and other components of hide-working, include hide glues & rawhide


---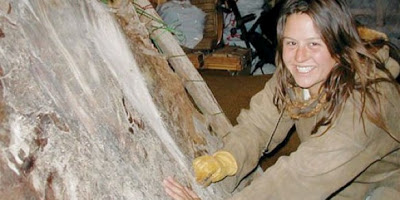 Katie Russell skinned her first squirrel at age six, and has been in love with dead things ever since! She loves the alchemy of transforming a stinky wet mass of skin and hair into luscious, durable, sustainable buckskin. A 2007 alumni of the Living Wild School with Lynx Vilden, she has gone on to lead internships in animal processing, deer skinning, brain-tanning, and buckskin clothes-making. Katie started www.Wilderbabe.com, where she sells her raw skins and custom work. She also runs primitive skills day camps for kids and organizes Saskatoon Circle Gathering (www.saskatooncircle.com). Katie is based in Twisp, Washington where she lives with her beloved horse and donkey.


---
Register for the Brain Tanning Course

---

Brain Tanning Course Testimonials:

"Course was excellent. The instructor was very knowledgeable, easy to understand, and broke everything down to easy to follow steps."
-Robin Addison
"I just wanted to let you know how much I appreciate what you all do. You can never tell what you're going to get from any type of school. I found everything at Alderleaf above & beyond what's advertised. I really enjoyed the class and got more out of it than I expected (including sore muscles :)). Katie Russell is extremely knowledgeable and a great teacher. She did a great job of passing her knowledge onto the students. Keep up the great work and I hope to see you all again soon." -Joe Merritt
"Absolutely excellent course, exceeded my expectations." -Patrick Kokesch

Return from the Brain Tanning Course back to Wilderness Courses
---
---
---

Discover Life-Saving Wilderness Wisdom!
The Essential Skills of Wilderness Survival 
This masterfully-organized guide will empower you to survive emergencies and grow deeper connections to nature, with expert instructor, Jason Knight of Alderleaf.

(Shop Now) On sale for a limited time
---
---