Six Keys to Wilderness Survival
Mini-Guide & eNews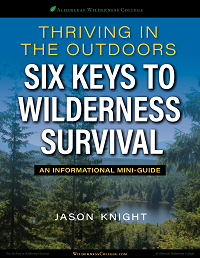 Get a free copy of our survival mini guide to discover the strategies of:
It complements the free monthly Alderleaf eNews. Our eNews articles encompass topics ranging from wilderness survival, wild edible & medicinal plants, sustainable living skills, wildlife tracking, and more.
We'll also be sharing several of our favorite, often-overlooked survival tips in the coming days!

Send the Survival Guide and Alderleaf eNews
You'll get instant access to a free copy of the guide and receive monthly wilderness skills articles, advanced notice of upcoming courses, & special discounts. We never share your information. Unsubscribe anytime. View Alderleaf's Privacy Policy.


---
What Folks Are Saying About This Guide
"Thanks so much for making this resource available. Looking forward to things to come!" -Ben A.

"I am very impressed and hope to increase my skills as a result." -Wendy E.

"Thank you for sending me this survival guide!!!" -Lori K.

"I appreciate the free guide very much and have added it to my collection of invaluable information.  The inclusion of naturalist knowledge in your free guide was both surprising and welcome to see. I look forward to hearing more from you in the future." -Trent S.
"Thank you very much, I read the mini-guide immediately." -Dana S.
"Thanks for making taking the time to help make these resources available in one place." -Trinity B.


---

Return from the Alderleaf eNews back to the Home Page