Essential Wilderness Survival Skills
Online Course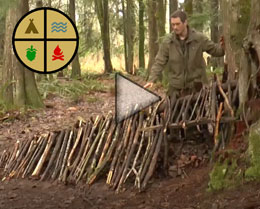 Essential Survival Skills
Course Details:
Location: Online
Watch the free Intro Video
Instructors: Jason Knight & Team
Cost: $195
Register


Transform your experience with the outdoors! Learn the core skills of survival - shelter, water, fire, and food - in a format that allows you to participate at home and at your own pace.
Become competent in taking care of your survival needs in the wilderness. See the outdoors with new eyes – such as which plants you can eat and what trees can be turned into a fire kit.
Come away with practical life-saving skills, a deeper relationship with nature, greater confidence, and resources to share with your family & friends for fun and in emergencies.
In this course you will:
Understand the survival mindset
Learn how to build natural shelter
Experience how to make fire from friction
Learn how to find and purify water
Understand how to safely forage for wild foods
Know how to better prevent and prepare for emergencies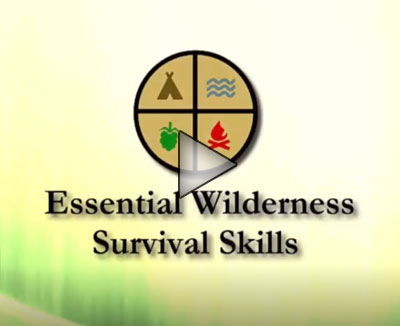 Watch the free Intro Video

Throughout the course we guide you through each skill step-by-step with videos in each module and accompanying handout booklets. Core concepts are emphasized and reviewed, with options to explore additional related skills.

The Essential Wilderness Survival Skills Online Course includes:
Seven Training Modules with Twelve Video Lessons
Nine Handout Booklets (over 87 pages!)
Lessons on Survival Concepts, Natural Shelter, Water Purification, Friction Fire, Wild Edible Plants, Survival Kits, Navigation & More



---
Learn More or Register for the Essential Survival Skills Course
---


Testimonials about Alderleaf:
"I recently completed the online Essential Wilderness Survival Skills course. It is a very nice introductory course for anyone interested in learning wilderness survival skills and also provides resources to further ones study beyond this class. It is apparent that the instructors are knowledgeable and have practical experience in the skills presented. It includes lessons covering a basic introduction, shelter, fire, water, useful plants, food, navigation and survival kits. It provides a basic understanding of the skills needed to survive a couple unexpected nights in the woods and is very applicable for anyone who spends recreational time in the outdoors including hikers, campers, hunters, etc. The program is designed to demonstrate a skill through the videos and handouts with the expectation that the student then go out and perform the skill independently. By following their program you address each skill needed in a survival situation in the order of importance with explanation as to why that particular need should be addressed in its respective order. They proved to be readily available with very quick responses to questions or comments and it was an absolute pleasure to talk with them. I would recommend it for anyone who is trying to get started in wilderness survival skills but find it difficult to attend a hands on class. There is no question that learning skills in the woods with a qualified instructor is the standard but for those with a busy life or without access to a local instructor this is absolutely a good place to start. I have not taken any of their on site courses but based on my experience I would love to have the opportunity to visit their school someday!! Thank you!"
-Rocky Hollow

"I have found a higher wealth of knowledge at Alderleaf than I find at most survival websites. Their newsletters are very informative, their courses thorough, and their attitudes fun and cheerful! Anybody striving to live not off the land, but with the land, should highly consider Alderleaf Wilderness College."
-Evan Haasenritter

"If you want to learn about wilderness survival and primitive skills from extremely knowledgeable instructors, Alderleaf Wilderness College is for you. I learned more than I ever thought possible at their classes."
-Casey Kafka

"The Alderleaf website for survival training is the best one I have ever found."
-Ken Germer

"Alderleaf Wilderness College is outstanding at developing and delivering wilderness skills programs, providing both a deep level of knowledge and context for the teachings."
-Ryan Whisnant
"Alderleaf Wilderness College teaches many survival skills which can be used in an unexpected survival situation or even applied to a more basic personal/earth interaction lifestyle. The subject matter is always presented with respect for our planet and all of it's resources and with all of the necessary precautions to avoid dangerous errors in pursuing these skills. Beyond the wealth of knowledge available through these teachings is the overall mindset that this knowledge comes packaged in. Their perspective opens a "new", for many people, relationship to the natural world, which is enriching to the soul beyond description. This fundamental connection to our world is something that is missing in the lives of many people. With the knowledge, skills and philosophy available from Alderleaf, we as a species can replace a vital missing link to our sense of place in the universe and our environment. This sense of belonging with the world around us is a gift to the soul that everyone should experience."
-Al Gualano
---
Return from the Online Survival Course back to Wilderness Courses
---
Knowledge is Power - Grow Your Wilderness Skills! Get monthly updates on new wilderness skills articles, upcoming courses, and special opportunities. Join the free Alderleaf eNewsletter: