Knife Making Course

Forging Your Own Knife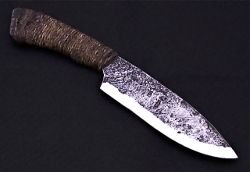 Knife Making Course Details:
Dates: Jan 26-27, 2019 (full)
Offered again: Feb 23-24, 2019
Offered again: Mar 23-24, 2019 (full)
Offered again: Apr 13-14, 2019
Offered again: May 4-5, 2019
Offered again: Jun 29-30, 2019
Offered again: Jul 13-14, 2019
Offered again: Sep TBD, 2019
Offered again: Nov TBD, 2019
Duration: 9am-5pm each day
Location: Seattle, WA
Instructor: David Tuthill
Cost: $400 (plus $50 materials fee paid directly to instructor)*
Register


Forge your own knife! Learn how to make a knife; including design, steel selection, basic metallurgy, layout, forging, profiling, heat‐treating, grinding, and sharpening.
Whether for work, camping, backcountry, or bushcraft; this knife will serve you for years to come. Additional topics discussed include how to select handle materials and how to design and lay out a leather sheath (so you can make a sheath at home).
In this course you will forge your own knife to take home. The course fee covers all instruction and materials. There is a maximum of six students in this course, to allow for highly personalized instruction. The class takes place at David's blacksmithing workshop, Fire Horse Forge, in the Ballard neighborhood of Seattle, WA.
*Please note, this course is excluded from discounts


---

Instructor Bio: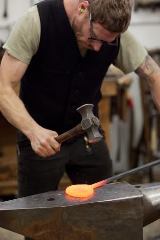 David Tuthill has been working with metals, beginning with jewelry, since the age of fifteen. He began forging as part of a sculpture course at Santa Barbara City College in 1988. He did not begin forging full-time until 1992 when he began to do privately commissioned work. Predominantly self-taught, he has been constantly challenging himself to further his skills by taking on tasks, or designing jobs that force him to learn something new. He has been operating his business, FIRE HORSE FORGE in the Ballard neighborhood of Seattle since 1994, where he produces architectural commissions, as well as furniture, sculpture, and jewelry.

David's years in the Northwest have been the most formative in his metalworking career. With his love for the outdoors, being surrounded by the vast and expansive nature of the region, as well as a rich industrial history, including timber, maritime trades, and railroads, he has continued to learn and has been able to more fully appreciate and understand how the influence of his surroundings can be reflected in the pieces that he produces. "For most of my life I have been interested in history, and how it still directly, and indirectly influences us today." "There is a connection to many of the traditions that brought us to where we are standing, so how do we give these ancient sensibilities, a modern voice, how do we relate it to now?" Learn more about David Tuthill at his website: FireHorseForge.co
---
Register for the Knife Making Course

---

Return from the Knife Making Course back to Survival Courses


---
Knowledge is Power - Grow Your Wilderness Skills! Get monthly updates on new wilderness skills articles, upcoming courses, and special opportunities. Join the free Alderleaf eNewsletter: