Knife Making Course

Forging Your Own Knife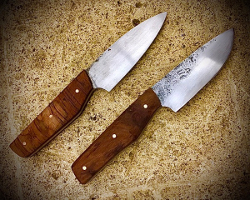 Knife Making Course Details:

Please note: Knife making is now
taught as part of the
Blacksmithing Course.

Please visit the Blacksmithing Course
page for detailed information.


Forge your own knife! Learn how to make a knife; including design, steel selection, basic metallurgy, layout, forging, profiling, heat‐treating, grinding, and sharpening.
Whether for work, camping, backcountry, or bushcraft; this knife will serve you for years to come. 
In this course you will forge your own knife to take home. The course fee covers all instruction and materials. There is a maximum of six students in this course, to allow for highly personalized instruction.
*Please note, this course is excluded from discounts


---
---

Details from the Instructor:
"In this two-day workshop you will learn the basics of making a hand-forged, finished knife. First, we begin with a general discussion on steel selection, design and use, and forging techniques, followed by a brief demonstration. Next we forge our blades before rough grinding, profiling, and drilling out the tangs, in preparation for heat-treating. Finally we harden and temper our blades in preparation for day two. The second day is spent doing all of our finish grinding and sanding, as well as preparing our knives for attaching the scales to the tang and finishing the handles. Finally, we spend time on the last steps of applying the finish, and sharpening our knives."


---
---
Learn about the Blacksmithing Course
---

Return from the Knife Making Course back to Survival Courses


---
---
---

Grow Your Outdoor Skills!  Get monthly updates on new wilderness skills articles, upcoming courses, and special opportunities. Join the free Alderleaf eNews and as a bonus you'll get a copy of our mini survival guide:

---
---