The Alderleaf Wilderness Certification Program
---
"The ultimate, adventure-filled year of wilderness skills training!"

The Alderleaf Wilderness Certification Program (AWCP) is a comprehensive, nine-month nature and outdoor survival course encompassing wilderness survival, wild edible & medicinal plants, wildlife tracking, outdoor leadership, and sustainable living skills. The program prepares you to apply nature skills in a variety of outdoor careers in wilderness education, environmental research, sustainable living, and beyond.



The course runs Sept to June. Limited space available.
---

Update: The program will not be running during the 2022-2023 school year. We will make a decision about the 2023-2024 school year in January. In the meantime, we recommend considering the online survival course, Essential Wilderness Survival Skills, as it will be a prerequisite for future students. Program applications will be kept on file for the future.


---
Who Can Apply? / Who Attends the Program?
What Credentials Are Earned?
What Do Graduates Do With Their Training?
Quick Facts - AWCP At-A-Glance

Imagine...

Developing wilderness survival skills that enhance your connection with nature, aid in emergencies, and promote self sufficiency...


Making herbal medicines and harvesting wild foods that bring greater health to yourself, your community, and the earth...


Learning how to read animal tracks and sign so you can contribute to environmental research and conservation...


Gaining permaculture and sustainable living skills that help you live and share a greener lifestyle...


Knowing how to teach your new skills to others in a way that inspires hope, leadership, and action...
---

Core Studies at the Alderleaf Wilderness Certification Program:

Wilderness Survival: Hunter-Gatherer Living Skills
Learn how to build natural shelters, purify water, create friction fire, find wild food, and master a variety of wilderness crafts. Wilderness skills help people survive in the outdoors and weather the aftermath of natural disasters.
Ethnobotany: Wild Edible & Medicinal Plants
Learn how to properly identify, gather, and prepare wild plants for meals, medicines, and tools. Wild plants provide healthy and nourishing sustenance as well as renewable materials for sustainable living.

Wildlife Tracking: Interpreting Tracks and Signs
Develop the ability to accurately read and follow tracks and signs made by mammals, birds, reptiles, amphibians, and insects. Wildlife tracking is an incredibly valuable tool in wildlife research, conservation, and survival.
Naturalist Skills: Place-based Ecological Knowledge
Develop a holistic understanding of the natural history, taxonomy, and species of North America. A balanced knowledge of flora, fauna, and ecology is an essential skill set for environmental field work and wilderness living.

Permaculture Design: Sustainable Living Systems
Gain the knowledge and skills needed to design and implement sustainable living systems in balance with natural ecosystems. Lessons from cultures past promote healthy communities and point the way towards a greener future.

Nature-Based Teaching: Education and Culture
Develop wilderness leadership and instructing skills, as well as community and cultural awareness. Nature education encourages environmental responsibility and inspires hope.


Students learn these core skills through an exciting mixture of engaging presentations, hands-on activities, and field-based experiences & adventures, developing an integrated knowledge of the natural world. Graduates of the Wilderness Certification Program come away with the ability to implement these valuable nature skills into their personal, professional and educational endeavors.


"The course helped to expand my understanding of the role of the natural world in all our lives, and was the catalyst for real personal changes in my own." -Jason Cameron


---
I Want Answers!
---

Graduates of the Wilderness Certification Program receive recognized professional certifications. Upon successful completion of the course students receive a Certificate in Wilderness Skills Education & Ecology, a vocational certificate which prepares students to work in the fields of nature education and environmental field research.
As part of the program, students also complete a Permaculture Design Certification, which prepares students to work as sustainability consultants. Students also participate in an official CyberTracker Track & Sign Evaluation to become certified wildlife trackers. Additionally, students complete a Wilderness First Aid Certification as part of the program.


---
---

"I would recommend the wilderness certification program to anyone wanting to reconnect with nature and a desire to live simply, with and for the land." -Jase Grimm


The Alderleaf Wilderness Certification Program at a Glance:
Location: Based out of our campus in Monroe, WA (in the Seattle / Puget Sound Region) with field trips throughout Washington State. Watch our video virtual tour.
Duration: School-year schedule. Meets Tuesdays, Wednesdays, and Thursdays, 9:30am - 3:30pm, with several extended trips during 33 weeks of classes. Next course start date to be determined.
Faculty: Jason Knight, Heather Swift, & Dave Boehnlein. Faculty Bios

Enrollment: Class cohort sizes range from 10 to 20 students. 
Credit: 18 undergraduate credits are available through Western State Colorado University (see our "Frequently Asked Questions" page for details).
Prerequisites: Essential Wilderness Survival Skills online course.

Tuition: $24,950. Tuition covers all instruction and field trips. Financial aid options are available.
Optional Further Study: Graduates have options for continuing studies including our second year of further training - the Advanced Wilderness Skills Program or the Wilderness Instructor Apprenticeship.


---

More Information
For more information please read our "Frequently Asked Questions" page which includes additional perspectives on what the program is and is not. You can subscribe to the free Alderleaf eNewsletter for school updates. See what graduates are doing with their education on our Alumni Bios Page and Employer Testimonials Page. Several years ago we kept a Certification Program blog for a school year - check out the posts to see highlights.

Ask a Question
To ask a question, fill out our information request / contact form or call our office at (360) 793-8709.
Schedule a Visit
Contact us to schedule a time to tour the campus.
Unable to travel all the way out for a visit? Then consider taking our basic online survival course - EWSS - to sample the curriculum.

To Apply
You may apply to be accepted for a future program. To apply, use our online application or download a mail-in application form.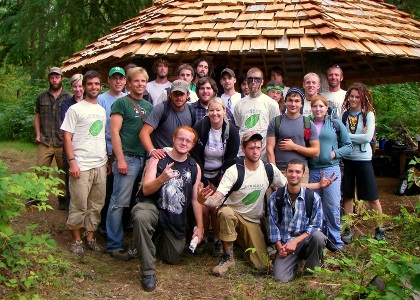 Check out videos, slideshows, and more on our media page!


---
"Look deep into nature, and then you will understand everything better." -Albert Einstein
---

Wilderness Certification Program Testimonials:

"Every day I learned at least one thing completely awesome. The year was an inspiring reflection of what we really are as humans and what we truly need to live." -Kyle Stokle
"Alderleaf Wilderness College has done a lot for my career. After graduating I was offered an internship with the US Fish and Wildlife Service doing outdoor education, and accepted a position with Michigan Audubon. I want to thank the faculty at Alderleaf for going up and beyond to help students." -Bryant Eddy
"Alderleaf is a wonderful program for learning how to live with the earth and not just on it." -Gianna Torres
"At Alderleaf our son had an amazing journey. The guidance and dedication of his instructors was genuine, always promoting respect and camaraderie every step of the way. A world of thanks to this outstanding school."
-Ana & Rafael Lara
"Before attending Alderleaf I had a theoretical idea of my place in the natural world, but now that idea has transformed into a visceral feeling of belonging to a place." -Jessica Ennis
"Alderleaf is a quality alternative to traditional higher education. You get so much more out of the hands on approach than just learning by the book." -Terry Rabourn
"My experience has been nothing but positive. Alderleaf has opened my eyes to a fascinating world and how important it is to respect it." -Ryan Foris
"Alderleaf Wilderness College has shown me that I am not alone. It is a community of passionate individuals who are excited and enthusiastic in sharing their time and knowledge. This program has changed my life, and made me a better person, even more so than I was expecting."
-Carly Benedict

---

---

---

Return from the Wilderness Certification Program back to Courses


---
---

Grow Your Outdoor Skills! Get monthly updates on new wilderness skills, upcoming courses, and special opportunities. Join the free Alderleaf eNews and as a welcome gift you'll get a copy of our Mini Survival Guide.