Backpack Basket Making Course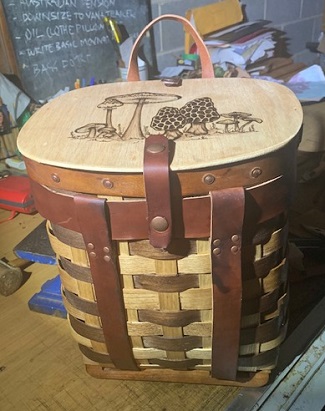 Backpack Basket Making Course Details:
Dates: Feb 9-Feb 11, 2024
Duration: Fri 6pm to Sun 4pm
Location: Monroe, WA
Instructor: Peter Yencken
Cost: $297
Register



Make a backpack basket (also known as a pack-basket) out of ash, walnut, poplar, or cherry weavers; fitted with leather straps and a plywood lid!
Pack-baskets are durable storage devices that you can carry with you wherever you go, or store things in them when not travelling. They make a great alternative to a nylon (plastic) backpack.
People tend to think of them as trappers baskets or foraging baskets, though they can be used for anything a regular plastic backpack can be used for, plus much more - such as walking in the woods, overnight trips, carrying the laundry, grocery shopping, etc...
Unlike a normal backpack they are easier to load and unload, because they do not slump. And if you are carrying fragile or perishable food they protect it with the hard shell.
With the lid on it can be use as a table and they are strong enough to be used as a seat. They only weigh about 5 lbs unloaded and if oiled occasionally they will last indefinitely.
You can choose the height. And you can mix different wood colors like light maple, orange of cherry, and dark brown of black walnut.
The only man made component is a small amount of glue in the plywood lid and bottom.


---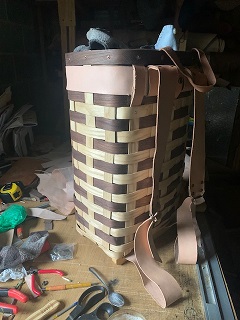 Alternating dark and light wood weavers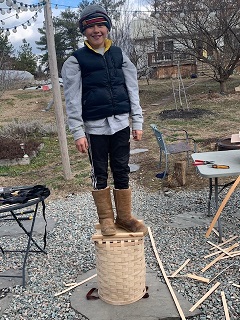 Durable enough to sit or stand on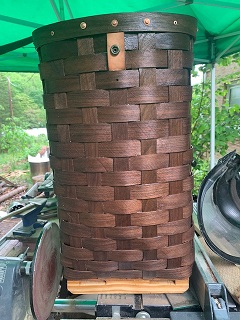 Walnut wood weavers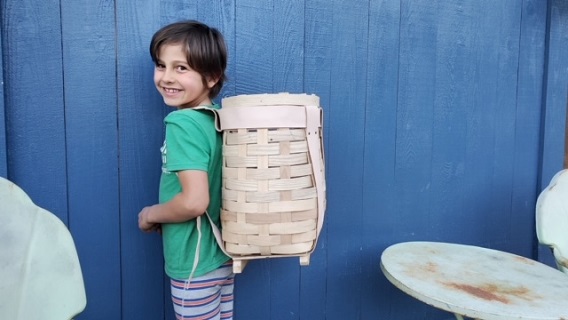 Light maple wood weavers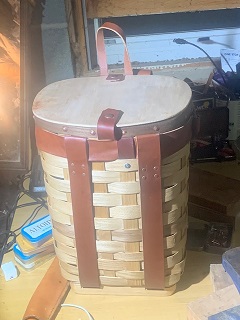 Leather straps and a plywood top
---

Register for the Backpack Basket Making Course


---

Instructor: Peter Yencken has been teaching wilderness skills for over 20 years. He started by working for Tom Brown's Tracking & Wilderness Survival School. He is a guest teacher at many wilderness schools around the country. He is a talented craftsman who has taught well over 1,000 people of all ages. Peter is a native of Australia and currently resides in Virginia. At Alderleaf, Peter offers his expertise at the Wooden Bow Making Course, Backpack Basket Making Course, and Knife Making Course. Learn more about Peter at Village Living Skills.