Survival Fire Making Skills Class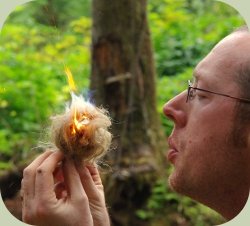 Survival Fire Making Skills
Course Details:
Date: Apr 15, 2023
Duration: 1pm to 4pm
Location: Monroe, WA
Instructor: Alderleaf staff
Cost: $97
Register





Learn how to create fire with natural materials! This course covers bow drill and other fire-starting techniques. Each participant builds a bow drill kit to practice with and take home!
An understanding of fire making skills can be a life-saver in a wilderness survival situation. From warming a shelter, to purifying water, and cooking food, survival fire skills are an essential tool for cool climate environments. The class includes demonstrations, practical information, and hands-on practice.
In this class you will:
Learn how to prepare, construct, and maintain a campfire
Gain an understanding of various fire starting methods
Learn the principles of primitive friction fire-making
Construct a bow drill kit which you can take home
Practice making coals/fires with the bow drill
Learn about hand drill and ferro rod techniques


---
Register for the Survival Fire Making Skills Class
---

Testimonials:
"The survival fire class was fantastic! A great way to spend a Saturday."
-Cindy L., Survival Fire Making Class Participant
"Loved it. Super Fun. Thank you!"
-Tanya, Survival Fire Making Class Participant
"I went from city boy to survival fire making man!"
-Jeff, Survival Fire Making Class Participant


---
Return from Survival Fire Making Skills back to Wilderness Courses
---
---
---

Our New Book (and Best Seller!)
The Essential Skills of Wilderness Survival 
This beautifully-organized, 164-page survival guide shows you our systematic approach to survival that will increase your confidence in the outdoors and teach you exactly what to do, and in what order, if you find yourself in a survival situation.
(learn more)
---
---