Survival Fire Making Skills Class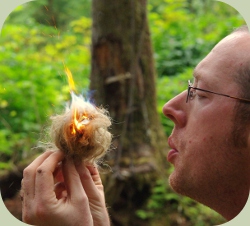 Survival Fire Making Skills
Course Details:
Date: Nov 10, 2018 or
Offered again: Nov 9, 2019
Duration: 9am to 4pm
Location: Monroe, WA
Instructor: Alderleaf staff
Cost: $125
Register




Learn how to create fire with natural materials! This course covers bow drill, hand drill, and flint & steel techniques. Each participant builds a bow drill kit to practice with and take home!
An understanding of fire making skills can be a life-saver in a wilderness survival situation. From warming a shelter, to purifying water, and cooking food, survival fire skills are an essential tool for cool climate environments. The class includes demonstrations, practical information, and hands-on practice.
In this class you will:
Learn how to prepare, construct, and maintain a campfire
Gain an understanding of various fire starting methods
Learn the principles of primitive friction fire-making
Construct a bow drill kit which you can take home
Practice making coals/fires with the bow drill
Learn about hand drill and flint & steel techniques


---
Register for the Survival Fire Making Skills Class
---

Testimonials:
"The survival fire class was fantastic! A great way to spend a Saturday."
-Cindy L., Survival Fire Making Class Participant
"Loved it. Super Fun. Thank you!"
-Tanya, Survival Fire Making Class Participant
"I went from city boy to survival fire making man!"
-Jeff, Survival Fire Making Class Participant


---
Return from Survival Fire Making Skills back to Wilderness Courses
---
Knowledge is Power - Grow Your Wilderness Skills! Get monthly updates on new wilderness skills articles, upcoming courses, and special opportunities. Join the free Alderleaf eNewsletter: