Wilderness Survival Skills Intensive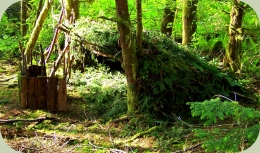 Wilderness Survival Skills Intensive
Course Details:
Dates: Aug 12-16, 2024
Duration: Mon 9:30am-Fri 3:30pm
Location: Monroe, WA
Instructors: Jason Knight & Alderleaf instructors
Cost: $1,497
Register


Spend five days immersed in studying outdoor survival skills! Wilderness skills not only provide valuable tools that can be life-saving in the outdoors, but also teach concepts needed in the event of a natural disaster. Survival skills enhance our relationship with the natural world and connect us with our ancestral roots.
This course includes detailed instruction and hands-on experience with:
Survival shelters for all seasons
Primitive fire starting skills
Identifying and harvesting wild edible plants
Locating and purifying water
Primitive hunting and trapping
Identifying animal tracks and sign
Stone survival tools
Nature observation and awareness
Primitive cooking and much more...
Class days are full of activities and instruction. Students construct a variety of survival tools to take home and have the opportunity to spend a night in a survival shelter (optional). Includes free camping at the Alderleaf campus.


---
Register for the Wilderness Survival Skills Intensive
---

Testimonials:

"The Wilderness Survival Intensive gave me tools to use in a survival situation, but also provided a knowledge base to help me look at the world around me in a new, more resourceful way. Thank you very much!"
-Lindsay P.
"The instructors are knowledgeable and experienced. Their stories make the course much better than trying to learn from books or the internet."
-Andy S.
"Alderleaf's instructors are a wonderful resource. We're so fortunate to have them in our area. I was able to create the tools for making fire, purifying water, even making a survival shelter. I came here thinking I would see experts demonstrate advanced skills in wild crafting. I never thought I personally would experience the kind of success I did; making fire for the first time is awe inspiring. Thank you!"
- Course Participant
"A wide-ranging sampler of survival and primitive living skills. Exposed me to lots of ideas to practice on my own and explore. Nothing like instant feedback of real instructors over reading a book."
-Alfred S.
"This was a truly profound experience. I learned a ton about survival and myself in the process."
-Mallory R.

"The survival intensive was a life changing experience. I will never see, hear, or move through the wilderness the same way again!"
-Eric W.
---
Return from Wilderness Survival Intensive to Wilderness Courses
---