Leatherworking Course

Making Mocassins, Boots, or a Backpack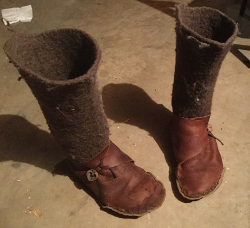 Leatherworking Course Details:
Dates: Jan 31-Feb 2, 2020
Duration: Fri 6pm to Sun 4pm
Location: Monroe, WA
Instructor: Peter Yencken
Cost: $275
Register
Come join craftsman, Peter Yencken! Make your own leather shoes in the moccasin style; or combination felt & leather boots; or a customized leather backpack or shoulder bag.
Option 1: Create Mocassin Style Leather Shoes:
Imagine how amazing it would feel to walk in a hand crafted shoe made exactly for you, by you!

Shoes are one of the most important things to learn how to make. Our feet are complex and individually shaped, thus our shoes should also be individually-shaped to perfectly fit the feet. Handmade shoes are exact replicas of our feet and something we can use every day.
How we make contact with the ground is so important to our well being. The foot evolved to act as the foundation of our ability to balance as a shock-absorber propulsion device, to be able to sustain enormous amounts of pressure, and to be incredibly flexible and resilient. With modern shoes, the function of the foot atrophies thus causing loss of balance, mobility and shock-absorption (thus other parts of the body are asked to do the job of the foot, which can cause structural problems further up the body - i.e knee, hip, or back problems). Come make your own customized footwear!


Option 2: Make a Leather Backpack, Hand Bag, or Satchel:
Choose your own style. Peter will give you detailed instruction and guidance to create your own durable and comfortable bag. A popular option is a leather backpack (Peter designed this style to be the perfect size for airline travel or as an overnight bag). Made from oiled vegetable tanned cow leather. Other options are a leather courier bag perfect for laptops or books, or a smaller day bag. Designed to fit to your individual body size & shape, while also meeting your needs for a bag.
Examples:
Leather Backpack Example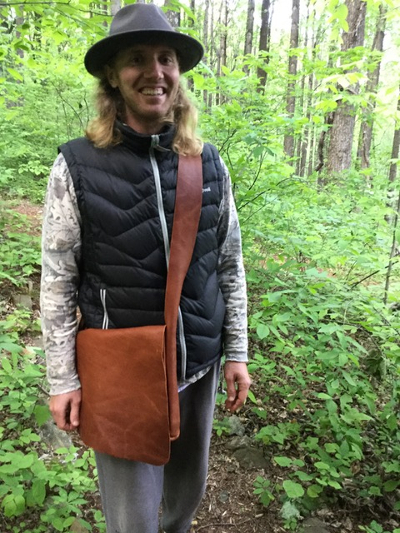 Leather Satchel Example
Option 3: Felt Boot Making (with optional leather sole):
Using the ancient no-knitting wet felting technique, you will make a pair indoor slippers or boot liners. Or if you add a leather sole they become an outdoor boot.
The craft hasn't changed in centuries except we use soap instead of ash. It's a simple, almost magical technique that transforms wool roving into a durable thick material that is formed to the owner's foot through agitation. We will discuss options for adding soles. Wool outperforms all synthetic materials in many ways. It breathes and it retains warmth even when wet. It resists bacteria and is better for the environment as as any waste is compostable.
Examples: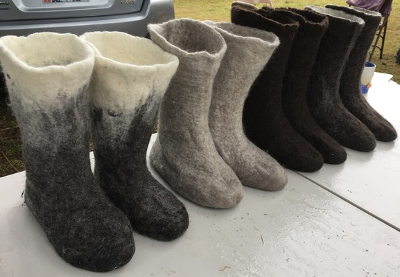 Felted Boot Examples
---

As an added bonus, this class is run simultaneously with the Bowmaking Course in the same space to allow participants to be exposed to multiple crafts while focusing on one specific skill.


---

Instructor: Peter Yencken has been crafting and making bows for over 20 years. He started teaching while working for Tom Brown's Tracking & Wilderness Survival School. He is a guest teacher at many wilderness schools around the country and has taught hundreds of students of all ages. Peter is a native of Australia and is a talented craftsman & woodworker.


---
Register for the Leatherworking Course

---

Return from the Leatherworking Course back to Wilderness Courses


---
---
---

Grow Your Outdoor Skills! Get monthly updates on new wilderness skills, upcoming courses, and special opportunities. Join the free Alderleaf eNews and as a welcome gift you'll get a copy of our Mini Survival Guide.