Blacksmithing Course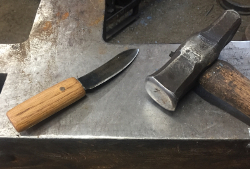 Blacksmithing Course Details:
Dates: TBD, 2021
Duration: 9am-5pm each day
Location: Nordland, WA
Instructor: Erik Newquist
Cost: $450
Register



Forge your own knife! This two-day blacksmithing course begins with making a nail and progresses to forging a personal knife to take home.  The workshop teaches basic blacksmithing, heat treating, and tool making techniques. 
Using recycled car springs, a blade is forged to the student's suitability for shape, then heat treated and tempered.  A handle is made from wood and fitted to the blade, followed by instruction in grinding and finishing your knife. 
Safety and respect for materials and the forge environment is emphasized.  The class flow is a blend of demonstration and short lecture with lots of hands on practice under the watchful eye of the instructor.


---
Steps in forging a blade
---

Whether for work, camping, backcountry, or bushcraft; this knife will serve you for years to come. The course fee covers all instruction and materials. There is a maximum of six students in this course, to allow for highly personalized instruction. The class takes place at Erik's blacksmithing workshop, Newquist Forge, in Nordland, WA.


---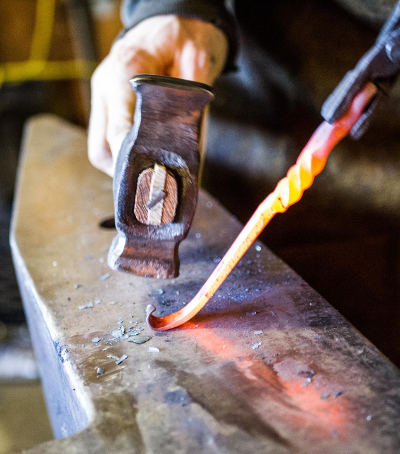 Shaping a nail
---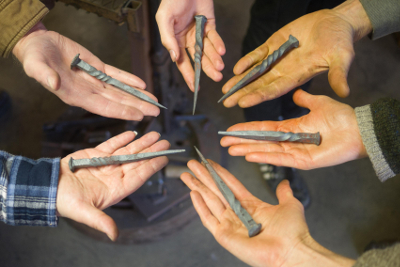 Forged nails
---
Blacksmithing Course Instructor Bio:
Erik Newquist had his first blacksmith shop in his parents' woodshed with a small coal forge and a tiny anvil at the age of 16.  He has since moved his shop from California to Vermont and finally back to Washington state where it all started.  Erik' shop is currently located on Marrowstone Island on the Olympic Peninsula.  He has a deep love for beautiful handmade tools that are used everyday.  He makes tools that people can use in every day life, such as splitting firewood with an hand forged axe, cooking with a handmade wok, and shaving wood with a handmade draw knife.  In keeping with long blacksmithing traditions, Erik makes his own tongs, hammers, drifts, chisels, forges, and power hammer.  His love of the craft was inspired by blacksmiths the world round, and now he passes on his knowledge to students of every age and skill level. Check out Erik's Etsy page: www.etsy.com/shop/newquistforge

---
Register for the Blacksmithing Course
---

Return from the Blacksmithing Course back to Survival Courses


---
---
---

Grow Your Outdoor Skills! Get monthly updates on new wilderness skills, upcoming courses, and special opportunities. Join the free Alderleaf eNews and as a welcome gift you'll get a copy of our Mini Survival Guide.