Wilderness Survival School
Survival Classes at Alderleaf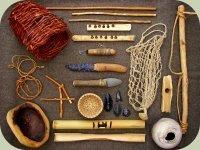 Alderleaf Wilderness College is a wilderness survival school and nature education center. The school offers a variety of wilderness survival classes as part of its nature skills curriculum which includes wild edible & medicinal plants, wildlife tracking, permaculture & sustainable living, and outdoor leadership. Alderleaf teaches both primitive and modern wilderness survival skills that empower people to be prepared and at home in the outdoors.
Current and past wilderness survival school classes include:
Current Courses:
Essential Wilderness Survival Skills (Online Course)
Learn the core skills of survival in a format that allows you to participate at your own pace.
Wilderness Survival Course: Weekend Class
Gain hands-on experience learning the primary skills of wilderness survival in a fun and informative weekend class.
Wilderness Survival Skills Intensive: 5-Day Course
Spend five full days immersed in studying outdoor survival skills! Detailed instruction and ample hands-on experience with shelters, primitive fire, wild edibles, and much more.
Survival Fire Making Skills Class
Learn how to create fire with natural materials! Gain hands-on experience with bow drill, hand drill, and flint & steel. Build a bow drill kit to take home.
Stone Tools & Flintknapping Course 
Learn how to make spear points, arrow points, knives, and a variety of other stone tools using obsidian.
Survival Knots, Cordage, & Lashings Class
Learn how to make cordage and the most useful knots and lashings for wilderness survival shelters, snares, baskets, nets, repairs, and rescues.
Evening Presentations on Wilderness Survival
Learn key survival concepts in this two-hour powerpoint slideshow presentation on outdoor survival. Offered at various locations in the Northwest. Contact us to schedule an evening presentation.

Past Courses:
The Alderleaf Wilderness Certification Program
Our most comprehensive survival training program, covering all aspects of wilderness skills, from herbal medicine to wildlife tracking and outdoor leadership. Runs Sept-May.
The Advanced Wilderness Skills Program 
A second year of advanced training for Certification Program graduates. Runs Sept-May.
Survival Trapping & Tracking Class
Learn primitive trapping and tracking techniques for emergency survival situations including safety, ethics, placement, and construction.
Wilderness Orienteering & Navigation Class
Learn how to use map & compass, as well as aid-less navigation techniques, for traveling on and off-trail in the outdoors.
Survival Stone Tools Class
Learn how to turn common river stones into a variety of survival tools from knives to arrowheads and axes.
Survival Nature Awareness Class
Learn nature awareness skills for survival, including bird language, wildlife tracking, stealth, observation, and camouflage.
Wilderness Survival Series
Participate in six exciting back-to-back weekends of in-depth wilderness survival school training.
Knife Making Course 
Forge your own knife while learning about steel selection, basic metallurgy, profiling, heat‐treating, grinding, and more.
Axe Forging Course 
Learn basic metallurgy, forging, heat treating, and hafting while you produce a small backcountry axe to take home.
3-Day Brain Tanning Course 
Learn how to turn animal hides into beautiful brain-tanned leather for clothing and survival projects.

Weekend Arrow Making Course 
Learn about forging arrowheads, shafting materials, hafting, cutting self nocks, fletching, and more.
Overnight Survival Course 
Learn new survival skills and put them to practice in a guided overnight survival experience.

Wooden Bow Making Course
Learn how to make a wooden long bow. Build and take home a bow, an arrow, and the skills to make more!


See a complete listing of courses at Alderleaf



---
FREE Mini Survival Guide: "Thriving in the Outdoors"

In this 9-page guide, you'll discover keys to starting a fire, building a shelter, purifying water, finding food... and many other life-saving skills. Get your FREE copy now by joining our list. Discover more.
---

Visit Hollowtop for a wilderness survival school listings page.


---

Return from Wilderness Survival School Classes back to Articles


---
---

Grow Your Outdoor Skills! Get monthly updates on new wilderness skills articles, upcoming courses, and special opportunities. Join the free Alderleaf eNews and as a bonus you'll get a copy of our mini survival guide: