Welcome to the July 2013 eNewsletter from Alderleaf Wilderness College!

In this issue...
1.) Feature Article: Pacific Northwest Trees
Trees are one of the most important resources to survival. Learn about these common and valuable deciduous trees native the the northwest...
2.) Welcome New Staff and Other News!
We're excited to welcome new staff members Lori, Jeremy, and Georgie, and share other "new" news...
4.) More Summer Courses & Events!
Permaculture Design Course, Wild Edible & Medicinal Plants Course, Wilderness Survival Weekend Course...


---
Feature Article: Pacific Northwest Trees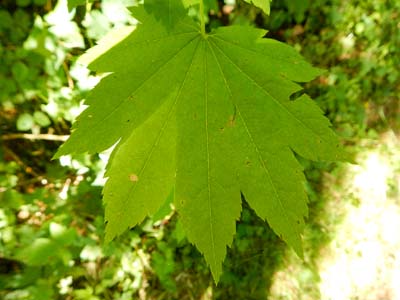 by Connor O'Malley
Pacific northwest trees are one of the most important resources to survival. They provide firewood, shelter, tools, food, medicine, wildlife habitat, and so much more to the ecosystem. If you know how to identify and use the trees in your local forest it will enhance your feelings of self-reliance and confidence in the outdoors. They are a great resource!
In this article I will share a few of the most common deciduous trees we see in the forests of western Washington and some of their survival, edible and medicinal uses...(Read more)

---
Welcome New Staff and Other News!

We're excited to welcome our new office manager, Lori Strickland, and new instructors, Jeremy Williams and Georgie Lilgreen! Lori's doing amazing holding down the fort here at the office. Jeremy and Georgie are teaching several summer courses and will be core instructors at the Wilderness Certification Program. Check out their bios on our staff page!
We'd also like to wish Michelle and Connor well on their next adventures - helping track mountain lions for the Teton Cougar Project!
Other News: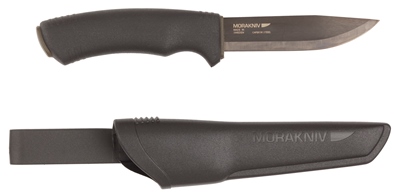 We just received the new upgraded Mora Bushcraft Black knives! They now have a coated blade to resist corrosion. Excited to see our favorite get even better! You can now purchase them from our school store. Learn more about the Mora Bushcraft Black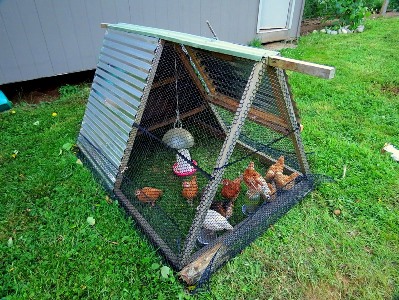 Check out our new blog post! Its been a busy month. Since last month we've taught three survival courses, upgraded our chicken tractor, ran our wild edible & medicinal plants course, collected our first crop of homegrown hay from our Stishem land, taught our navigation class and introduction to permaculture class, hosted our annual bow making workshop, and kicked off our summer nature camp, to name a few! See photo highlights: Alderleaf Blog - Busy Times
---
More Summer Courses & Events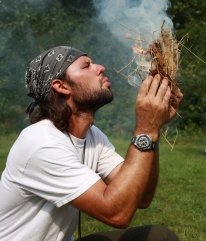 Still space in many of our upcoming courses:
Learn more about classes at our Courses page!


---
Considering the Alderleaf Wilderness Certification Program?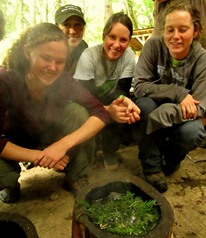 There is still time to apply for the 2013-2014 school year.
Classes begin September 10th, 2013.

Check out the Certification Program web page!
---
Did you know that Alderleaf has a blog and forum, and is also on social sites?
Check them out...
Alderleaf Commons Online Forum
Alderleaf on Flickr


Help Us Reach Out!
Do you know of any great websites that would be a good connection for Alderleaf? We can always use the support of other sites linking to us. Just reply to this newsletter if you have any suggestions or contacts for sites that would link to us and be a good match.
You can also mention us on Facebook, Twitter or any other way...every little bit helps Alderleaf affect positive change in the world through nature skills education! Thank you very much for considering this request!
---
Share the Alderleaf eNewsletter!
Do you know someone who might enjoy our free nature skills articles and program updates? If so, you can forward the Alderleaf eNewsletter to a friend!

If you received this issue from a friend, you can subscribe to our free eNewsletter by clicking here.

Privacy Policy: Alderleaf Wilderness College highly respects the privacy of our subscribers and never sells, trades, or otherwise shares your email address or other personal information with anyone else, for any reason, without your express written permission. Our e-newsletters always contain an easy way to opt-out (unsubscribe function) at the bottom of each email.
The Alderleaf eNewsletter is emailed approximately once per month. We pledge to never flood your account with emails.
Alderleaf Wilderness College
18715 299th Ave SE
Monroe, WA 98272
United States
(360) 793-8709

Visit our website to see new program information and more: https://www.wildernesscollege.com/index.html


---