Wild Mushroom Identification Class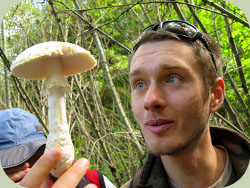 Wild Mushroom Identification
Course Details:
Date: Oct 7, 2023 (full) or
Offered again: Oct 14, 2023
Offered again: Oct 15, 2023
Offered again: Oct 22, 2023
Duration: 10am-4pm
Location: Monroe, WA
Cost: $147
Register

Learn the skills needed to utilize wild edible mushrooms! Spend an exciting day with Alderleaf learning about wild mushrooms and their many uses.
The class covers mushroom foraging fundamentals, including:
Where to look for different species: habitat preferences
When to harvest different species: seasonal growth patterns
Non-edible look-alikes and poisonous mushrooms to avoid
Tasty recipes for common edible wild mushrooms
Ethical harvesting and how to steward gathering areas
Storing and preserving edible wild mushrooms
A review of useful resources: great books and websites on mushrooms
The course begins with a fascinating slide show presentation that explains how to identify a wide variety of mushrooms found in the Pacific Northwest. The course continues with a mushroom foraging hike (participants must be capable of hiking off-trail on uneven ground). Hand-outs are provided with recipes and resources for further learning.


---
Register for the Wild Mushroom Class
---

Testimonials:
"I really enjoyed the course. It gave me the confidence to go out on my own." -Anthony Kusske
"I love the comprehensive and long-range view of the course and how fungi fit into the whole ecosystem. Mushrooms can save the world!"
-Dorothy Barron
"I really enjoyed the knowledge base of the instructors."
-Sean Whalen

"The course gave enough information to be practical but not so much as to be overwhelming."
-Karen Winter

"The instructors are very informative, organized, and fun." -Marty Holota
"Friendly and natural environment for learning more about the flora and fauna of the Pacific NW!"
-Jennifer Lanksbury

"Very nice! Consolidated useful information; made it easy to understand."
-Nick Serrano


---
Return from Wild Mushroom Identification to Wilderness Courses
---