Wildlife Tracking Apprenticeship
Discover the Stories in Animal Tracks and Signs!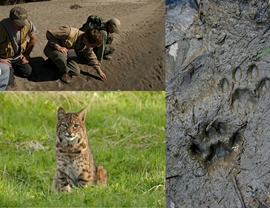 Wildlife Tracking Apprenticeship
Course Details:
Dates: Ten weekends, Sept - June
Begins: TBD 
Ends: TBD 
Locations: Campus & field trips
Instructors: Alderleaf staff
Register


See the natural world through new eyes as you become a wildlife tracker!
There is a story within every animal track that unfolds as you learn the ancient science and art of wildlife tracking. Learn who made the tracks, how fast the animal was moving, where they sleep, what they eat and so much more.
Our ancestors once relied on tracking for survival, as well as inspiration for art and storytelling. Today, tracking also serves many other roles including as a tool for environmental studies, conservation projects, land use planning, and supports hobbies such as wildlife photography. Many people love tracking just for the sheer joy of being part of the natural world.
In the wildlife tracking apprenticeship you discover stories of your own while growing as a tracker and naturalist. You learn basic through advanced tracking skills and gain an understanding of animal behaviors and their environments. You develop practical tracking and trailing skills that can be applied in a variety of wildlife projects.

Course Overview (ten weekends)
September: Clear Print Identification
- Learn what to look for to identify animal tracks and sign.
October: Track Pattern and Gait Analysis
- Interpret how animals behave and move across the landscape.
November: Intro to Trailing; Track & Sign of Desert Species
- Learn how to follow the trail to find the animal.
December: Ecological Sign Tracking
- Predict where to find animals using ecological features & animal behavior.
January: Tracking in Wildlife Research
- Learn to apply tracking skills for wildlife research projects.
February: Bird Tracks & Sign and Skull ID
- Discover the the bird world through tracks, nests, feathers & more.
March: Evaluation Prep and Trailing 2
- Practice your new tracking and trailing skills in the Columbia Plateau region.
April: Small Wildlife Tracks and Sign
- Explore the tracks of reptiles, amphibians, insects, and small mammals.
May: Coastal Tracks & Sign
- Learn the tracks and signs of coastal species in the San Juan Islands.
June: CyberTracker Track & Sign Evaluation
- Become certified through the international CyberTracker Evaluation.

The Wildlife Tracking Apprenticeship meets for a full weekend each month. Class time consists of exciting presentations, guided practice, and field trips to the best tracking areas in Washington State. These field trips include visits to the North Cascade Mountains, San Juan Islands, and the sagebrush deserts of central Washington.

The Tracking Apprenticeship At a Glance:
Duration: Ten weekends that take place from September through June
Begins: September, TBD
Ends: June, TBD

Locations: The Alderleaf campus and various field sites in Washington State, with carpooling options from Monroe, WA.
Instructors:
Filip Tkaczyk and Jason Knight. Fil and Jason are experienced wildlife biologists and are among the top wildlife trackers in North America. Both have been evaluated by CyberTracker Conservation International and have scored Specialist Level Track & Sign Certificates (100% scores). Jason has also received a Specialist Trailing Certificate (Senior Tracker).
Read more detailed staff bios.
Course fee: $1995
Register for the Wildlife Tracking Apprenticeship


---
Testimonial:

"Being a part of Alderleaf's tracking apprenticeship was a great experience. The course provided a terrific opportunity to get out in the field all around the Northwest with amazing instructors and wonderful students all of whom care about and take in all the incredible environments we visited. We were gifted with so many unique experiences on our trips, the wildlife and the land itself giving us unforgettable shared moments and providing us with learning and teaching moments. If I could take this course each and every year, I would. Each trip is so one of a kind and the tracks and sign we find are always unique to that moment in time that the course would always be new and fresh." -Kristian Boose, Tracking Apprenticeship graduate
---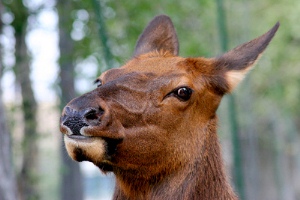 ---
Return from Tracking Apprenticeship back to Wilderness Courses
---
Knowledge is Power - Grow Your Wilderness Skills! Get monthly updates on new wilderness skills articles, upcoming courses, and special opportunities. Join the free Alderleaf eNewsletter: