Mora Bushcraft Black Knife

Wilderness Survival Knife Recommended by Alderleaf Wilderness College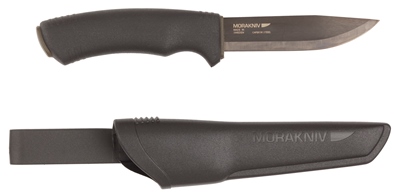 "A good wilderness survival knife should have a durable fixed blade, a comfortable handle that allows for a secure grip in all weather conditions, and a blade length that is easy to control."-The Mora Bushcraft Black is a knife that meets and exceeds each of these qualities.
Wilderness Survival Knife Recommendation
As a wilderness survival school, Alderleaf has tested and observed countless types of knives through all kinds of survival tasks. The Mora Bushcraft Black has become our survival knife of choice due several unique features:

Blade Characteristics
The Mora Bushcraft Triflex's fixed blade is extremely durable with the blade's metal running through the handle. This allows you to use the knife for even the most demanding applications. The 4 inch blade length is ideal for excellent knife control when carving and performing survival tasks.

The blade material is a high carbon Swedish steel, which has excellent strength, sharpness, and edge retention. The flat grind blade geometry allows for efficient carving and makes the blade easy to sharpen in the field. The blade coating prevents corrosion.


Be More Prepared For Your Next Outdoor Adventure!

Don't leave without knowing these six essential survival skills. Our free survival mini guide reveals the strategies of:

Shelter & fire to prevent the number one cause of death

Obtaining clean water to avoid life-threatening dehydration

Common wild survival foods and other critical skills!

Handle Construction
The Mora Bushcraft black's handle is shaped to provide very comfortable handling, without sharp edges or angles. This is a key feature when you need to use a knife for prolonged periods of time. Angular handle shapes can cause blisters and abrasions. The shape also provides for finger protection on the blade side, while being open for multiple thumb positions on the back side of the blade.

The high friction handle material allows for an incredibly secure grip even in wet and cold conditions. This allows you to use the knife safely and effectively in all weather conditions, another important survival knife feature.
Sheath
The Mora Bushcraft Triflex Knife comes with a durable molded plastic sheath. The sheath material won't rot or mildew and is much more resistant to cuts and punctures than leather.

"Simply put, we feel this is the most durable and well-suited knife for wilderness survival. It is now available on our website and at our survival courses."


---

Resources:
Read our article about Choosing the Best Wilderness Survival Knife

Learn more about excellent survival knives at the Mora Knife website.


---

Return from Wilderness Survival Knife back to the Nature Store


---
---

Grow Your Outdoor Skills! Get monthly updates on new wilderness skills, upcoming courses, and special opportunities. Join the free Alderleaf eNews and as a welcome gift you'll get a copy of our Mini Survival Guide.