Wildlife Tracking Course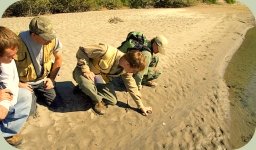 Wildlife Tracking Course Details:
Dates: Aug 25-26, 2018
Duration: 9am Sat - 4pm Sun
Location: Monroe, WA
Instructor: Chris Byrd
Cost: $250
Register



Discover the fascinating world of wildlife tracking! Learn to identify and interpret the tracks and signs of wild animals while gaining a new awareness of of the natural world. Wildlife tracking skills enhance outdoor experiences, are a valuable tool for wilderness survival, and can be used to contribute to wildlife research & conservation.
This course covers track identification, interpreting behaviors from track patterns, and documenting tracks & sign through photography and field journals. The course is a mixture of engaging presentations and ample hands-on field practice along beautiful local rivers and forests.
Wildlife tracking skills are an invaluable tool to both the outdoor enthusiast and environmental professional. Accurate track and sign identification skills allow you to quickly assess species present in an area. Information gathered from tracks & sign can support wildlife management and conservation efforts.
In this course you will:
Learn to accurately identify tracks and sign of a variety of wildlife
View engaging slideshows and our plaster cast collection
Learn to interpret gaits, track patterns, and behaviors
Go on interpretive hikes at ideal tracking sites along local rivers
Learn track photography and how to make plaster casts
Gain an overview of the six disciplines of tracking
Learn about the international tracker certifications


---
Register for the Wildlife Tracking Course

---
Wildlife Tracking Course Testimonials:

"Very well rounded for a two day course. Covered a lot of basics and left me wanting more! Opened my eyes to what seems to be the obvious. Thank you!"
-Karley D., Tracking Course Participant
"Great introduction to tracking. Especially liked the plaster casting and the slide show. Would definitely take another course. Great instructors!"
-Tracking Course Participant
"Very pleased with the whole weekend. It created an interest that I can share with my kids and wife. Thank you very much!"
-Bill Gilles, Tracking Course Participant
"Very practical; presented logically with great emphasis on enthusiasm, detail and passion."
-Tracking Course Participant

"This is a great way to learn which animals are in the area and what they are using for survival."
-Tracking Course Participant

"The course had a huge positive impact and changed the way I look at, approach, and relate to the natural world around me."
-Tyler S., Tracking Course Participant


---

Return from the Wildlife Tracking Class back to Wilderness Courses


---
---
---

Discover Life-Saving Wilderness Wisdom!
The Essential Skills of Wilderness Survival 
This masterfully-organized guide will empower you to survive emergencies and grow deeper connections to nature, with expert instructor, Jason Knight of Alderleaf.

(Shop Now) On sale for a limited time
---
---