Welcome to the June 2016 eNewsletter from Alderleaf Wilderness College!

In this issue...
1.) Graduation and Alumni Updates!
We just held our annual graduation ceremony. See what some of these recent graduates are doing next and what they have to say...
2.) Featured Article: Skull Identification
Learn how to get started with skull identification by understanding key parts of mammal skulls...
3.) Upcoming Course Dates
There's still space in several of our summer classes. Check out what's coming up for the remainder of 2016...


---
Graduation and Alumni Updates!
We just graduated this amazing group of Alderleaf Wilderness Certification Program (AWCP) students (our 8th annual class!). They had a successful survival trip to wrap up the year. A huge congrats to all of them!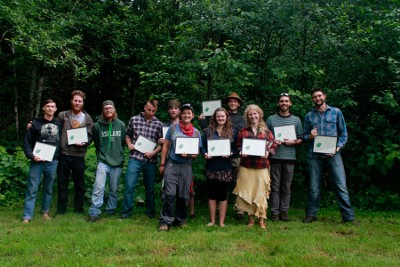 We also graduated our first class of second year students, the Advanced Wilderness Skills Program (AWSP). They had a tremendous year of in-depth training. Words can't express how proud we are of this rugged crew!


Where are Recent Graduates Off to Next?
Learn about what some of these alumni are doing:
Andy and Annabel (picture behind the table), recent AWSP grads, accepted paid internships with Panthera (the world's leading wild cat conservation research organization), putting their tracking skills to use with the Teton Cougar Project in Wyoming!


Kwan and Christina, AWCP grads, accepted employment with Trackers Earth Bay Area, teaching wilderness skills to teens on backpacking trips. Kwan and Christina will also be returning to Alderleaf in the fall to join our Wilderness Instructor Apprenticeship Program.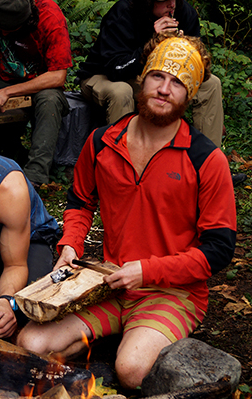 James-Michael, AWCP grad, accepted a position with Outdoor Adventures, leading white-water rafting trips. He will also be returning to Alderleaf in the fall to attend the Advanced Wilderness Skills Program.


What Do Grads Have to Say About Their Alderleaf Experience?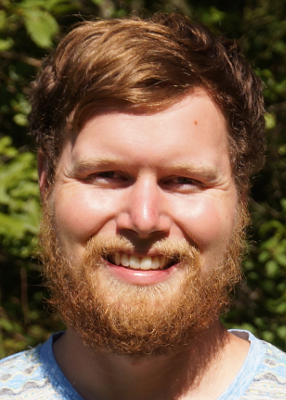 "Alderleaf has surprised me in many ways this year. I plan to use what I have learned at Alderleaf to start a Permaculture/Natural Building business. The most valuable thing I have learned this first year is how much naturalist skills will impact my future plans. My comfort level in the wilderness has grown tremendously, and I am very happy with the vast curriculum Alderleaf has presented." - Andrew Tuttle


"During my time at Alderleaf I have been amazed by the opportunities and resources provided through the school. Not only am I obtaining a diverse skill set necessary for a happy and successful lifestyle, I am also receiving skills and resources required for a prosperous and successful career. All the naturalist skills taught at Alderleaf have expanded my personal viewpoints of the world around me and provided me with a sense of belonging and fulfillment for years to come." -Brandon Dean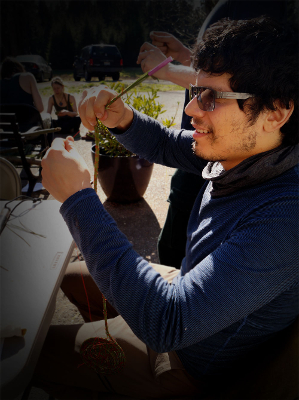 "I have enjoyed every minute of the Wilderness Certification Program. Permaculture is my reason for being here, but I specifically chose Alderleaf because I wanted a robust set of naturalist skills to go along with a Permaculture Design Certificate. The instructors here are fantastic! The apprentices really enhance the experience. I was told in the beginning of the year, the field trips just get better and better, and it's totally true. One bit of advice for prospective students: come for the education, stay for the field trips!" - Alberto Chavez


---
Featured Article: Skull Identification
By Filip Tkaczyk
Skulls hold a fascination for many people. For some they are symbols of death or fear, while for others they are physical representations of animals and the expressions of the stories of their lives. Skulls can tell us many things about an animal, including the species, its approximate age, size, health, what it ate, whether the animal was... Continue reading


---
Upcoming Course Dates!
Registration is open. Check out what's coming up on the course calendar below.
---
Considering the Alderleaf Wilderness Certification Program?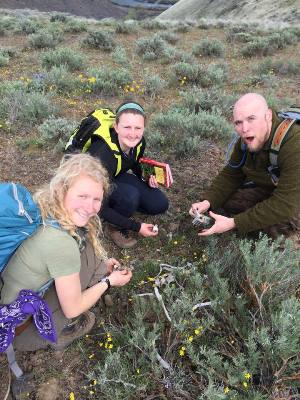 The application period for the 2016-2017 school year is open. Classes begin September 6th, 2016. Visit the Certification Program page.


---
Did you know that Alderleaf is on several social sites?
Check them out...
Alderleaf on Google+


Help Us Reach Out!
You can mention us on Facebook, Twitter or any other way...every little bit helps Alderleaf affect positive change in the world through nature skills education! Thank you very much for considering this request!
---
Share the Alderleaf eNewsletter!
Do you know someone who might enjoy our free nature skills articles and program updates? If so, you can forward the Alderleaf eNewsletter to a friend!

If you received this issue from a friend, you can subscribe to our free eNewsletter by clicking here.

Privacy Policy: Alderleaf Wilderness College highly respects the privacy of our subscribers and never sells, trades, or otherwise shares your email address or other personal information with anyone else, for any reason, without your express written permission. Our e-newsletters always contain an easy way to opt-out (unsubscribe function) at the bottom of each email.
The Alderleaf eNewsletter is emailed approximately once per month. We pledge to never flood your account with emails.
Alderleaf Wilderness College
18715 299th Ave SE
Monroe, WA 98272
United States
(360) 793-8709

Visit our website to see new program information and more: https://www.wildernesscollege.com/index.html


---