Get the Skills to Be a Permaculturist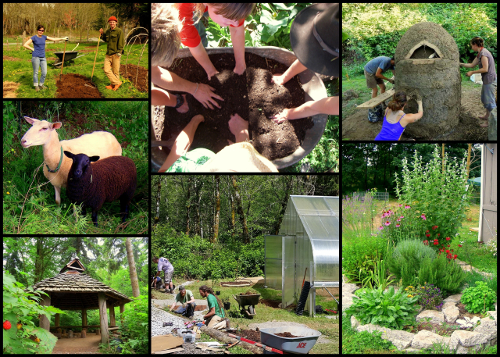 Permaculture Classes & Projects
Hands-On Training through the Alderleaf Wilderness Certification Program
Permaculturists work as sustainability consultants, landscape designers/installers, farm managers, educators, and land stewards all over the world. Knowledgeable trained permaculturists help others implement sustainability into their landscapes and lives.
If you love nature & working with people, and are ready to start on a new career path that is both personally and professionally rewarding, you owe it to yourself to consider permaculture design training.
Becoming a Knowledgeable Permaculturist
The Alderleaf Wilderness Certification Program provides the hands-on training, practical experience and support to pursue a rewarding permaculture career.
Classes are led by dedicated instructors with years of experience working in the field. Students get the skills employers are looking for, including:
Permaculture Design Certification  (an in-depth overview of sustainable food production, natural building techniques, rainwater harvesting, alternative energy, rural & urban strategies, climatic factors, etc...)
Certificate in Wilderness Education & Ecology
Naturalist Skills, Ethnobotany, & Outdoor Leadership Training
Wilderness First Aid Certification
Wildlife Tracking Certification

And More!

Core Programs - Two Levels of Training:
Alderleaf Wilderness College offers a primary and advanced program:
The Alderleaf Wilderness Certification Program (AWCP)
This program is ideal for students interested in getting into the field in the shortest time possible. Graduates of this program are prepared for entry-level positions in permaculture including landscape installation, design consulting, and land stewardship.
Can be completed in one school year (9.5 months).
The Advanced Wilderness Skills Program (AWSP)
The advanced program is designed for graduates of AWCP interested in pursuing additional training and certifications. Graduates of this program are prepared for more technical permaculture positions in design, implementation, and education. Completing this additional training can mean higher earning potential and increased job opportunities.
Can be completed in one additional school year (9.5 months).
Get Individualized Help – We're Here for You!
"It's been too long. I've been out of school for years"
"I went to regular college, but it didn't work out"
"I'll look into it more when I have more time"
We've been there.

Most Alderleaf students are in their 20's and 30's or older. Most have tried other programs or career paths. They choose Alderleaf, and succeed, because we're different - hands-on & experiential learning with passionate teachers and excited classmates. Students who choose Alderleaf are looking for a partner in their success who can help them network and connect with opportunities.

We're all for self reliance, however we never want you to feel like you're left to fend for yourself. In addition to sharing classes with a community of like-minded peers, as an Alderleaf student you'll have access to continual advising, job leads, and alumni connections.
Is Permaculture Education Right for You?
Get More Information...
If you're interested in learning more about becoming a permaculturist, and exploring whether this is the right career path for you, fill out the form on this page and receive more information.
Our admissions adviser will be happy to answer any questions you have and can help with everything from student housing to financial aid.
---
I Want Answers
---
Or Call Today to Get Started: 360-793-8709
---
Apply Now to Receive Priority for Scholarships & Student Housing


---