Permaculture Courses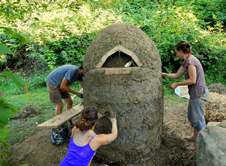 Alderleaf offers several permaculture courses. Learn about permaculture design, sustainable living skills, homesteading, and self sufficiency.
Permaculture design integrates the best of sustainable food production, natural building, forest stewardship, habitat restoration, water management, alternative energy, and much more.

Courses include:
Weekend Home-Scale Permaculture Course - Join us for a weekend to learn about the basics of permaculture - a revolutionary sustainable design system. The course covers permaculture principles, strategies, and ethics; basic design; and a hands-on tour of permaculture projects in action at Alderleaf. Learn how to get started at home with this ecological approach to designing for green human settlements.
Nine-Month Alderleaf Wilderness Certification Program - Our most comprehensive course. In-depth training in survival, nature skills, and permaculture. The program prepares you to apply nature skills in a variety of outdoor careers in wilderness education, environmental research, sustainable living, and beyond.
Nine-Month Advanced Wilderness Skills Program - A second year of advanced training for Wilderness Certification Program graduates. The program focuses on advanced studies and applications of each of our core curriculum areas (survival, tracking, ethnobotany, permaculture, naturalist skills, and outdoor leadership & teaching).
1-Day Intro to Mushroom Cultivation Class - This class is a great primer for those interested in mushrooms who want to get started growing their own at home. The class includes hands-on practice with log inoculation, mushroom bed creation, straw bag techniques, and more. Participants learn cultivation methods for growing shiitake, oyster, and king stropharia mushrooms.
Weekend Homesteading Skills Course - Join us for a weekend of practical skills for both the homesteader with off-grid goals and the city-sustainable alike. We will be delving into fun, practical hands-on projects to help you be more self-sufficient in everyday life. Learn about canning, small animal systems, creating new things from old, useful wild plants, fermented foods and more in this packed weekend introduction to basic homesteading skills.
Three-Week Permaculture Design Certificate Course - Learn how to work with nature to create a more sustainable world and become more self sufficient. Earn a Permaculture Design Certificate while gaining hands-on experience on our permaculture farm and wilderness campus. This three week course focuses on permaculture design principles, ecology, and sustainable living skills.

Weekend Food Forest Course - Learn how to create a permaculture food forest that provides diverse foods, medicine, and rich wildlife habitat. Using permaculture principles, you'll learn to develop a garden that mimics the natural processes of the forest, where maintenance is minimal and the outputs are diverse.
---
Online registration is available for many of our courses.
Visit the Course Registration page to sign up for classes.
---
Sign up to the Alderleaf eNewsletter to receive updates on
new courses and nature skills articles.
---

For info on courses with other organizations around the world, visit Permaculture Magazine.


---
Return from Permaculture Courses back to All Courses

---
---
---

Discover Life-Saving Wilderness Wisdom!
The Essential Skills of Wilderness Survival 
This masterfully-organized guide will empower you to survive emergencies and grow deeper connections to nature, with expert instructor, Jason Knight of Alderleaf.

(Shop Now) On sale for a limited time
---
---