Intro to Mushroom Cultivation Class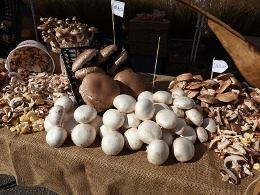 Intro to Mushroom Cultivation
Class Details:
Date: Mar 23, 2019 
Duration: 9am - 4pm
Location: Monroe, WA
Cost: $300
Register




The Intro to Mushroom Cultivation Class is a great primer for those interested in mushrooms who want to get started growing their own at home.
The course includes a short lecture, demonstrations, and hands-on practice with log inoculation, mushroom bed creation, straw bag techniques, and more. Participants will learn cultivation methods for growing shiitake, oyster, and king stropharia mushrooms.
In this course you will:
Learn the basics of fungi and propagation techniques
Learn sterilization and pasteurization methods
Gain an understanding of advanced cultivation methods
Be able to take home multiple mushroom projects


---
Register for the Mushroom Cultivation Course
---

Return from the Mushroom Cultivation Class back to Permaculture Courses


---
---

Grow Your Outdoor Skills! Get monthly updates on new wilderness skills, upcoming courses, and special opportunities. Join the free Alderleaf eNews and as a welcome gift you'll get a copy of our Mini Survival Guide.