Ben Mardis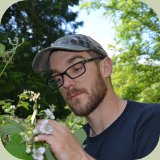 Ben Mardis is a guest instructor at Alderleaf and writes articles for the Alderleaf website. He is an experienced educator who spent three years volunteering on farms and homesteads around the country practicing sustainable living skills. Ben is a graduate of both the Alderleaf Wilderness Certification Program and the Advanced Wilderness Skills Program. He holds a Level II Tracker Certification and a Permaculture Design Certification. Ben was born and raised on the east coast before finding his calling in the Pacific Northwest. He served as a sonar technician on submarines in the United States Navy. Ben is a passionate naturalist who loves unfolding the mysteries of the plants, birds, and fungal kingdom. When not working on mushroom cultivation or herbalism projects you can find him in the garden or in the forest photographing birds.


---
Articles by Ben Mardis on the Alderleaf Website:
- 15 Great Permaculture Plants
- Compost Tea Recipe

- Mushroom Cultivation


---

Return from Ben Mardis Bio back to Alderleaf Staff and Authors


---
---
---

Grow Your Outdoor Skills! Get monthly updates on new wilderness skills, upcoming courses, and special opportunities. Join the free Alderleaf eNews and as a welcome gift you'll get a copy of our Mini Survival Guide.