Nettle Pesto Recipe
By Ben Mardis

This stinging nettle pesto recipe is a tasty way to get started with adding wild foraged foods to your diet!
There are so many reasons to incorporate wild foods into our diet.  They didn't take any effort on our part to grow, they're nutritious, they're free, and when you start to supplement your diet with them you begin developing stronger connections with the natural world. 
Personally, foraging for my food also pushes me to explore different areas and visit more parks since that is where some of the greatest diversity of food might be found.  
Spring is the time for wild greens and you'd be hard pressed to find a park that doesn't have a booming patch of something growing there. With minimal effort and good forethought you can collect enough to have greens in your diet year-round!  
Wild greens in general contain higher levels of vitamins and minerals than those picked up at the grocery store and are well worth the energy spent collecting.  There are many species of plants to forage for in the spring but stinging nettle, miner's lettuce, lamb's quarters, and chickweed are some of the staple greens that I go for. 
My first objective in spring is to collect enough wild greens to put away for the winter because I cringe at the thought of buying a four dollar bunch of kale at the store when there is an abundance of food available to the forager.  Wild greens continue to be available in quantity until my garden starts to come into swing.
My summer garden provides plenty of fresh greens while most of the wild ones are beginning to go to seed, marking the time to start planning for collecting wild quinoas and amaranths!
Moving into the winter when wild greens are no longer available, it's comforting to have a nice supply of greens put away from the spring harvest.  I have jars of dried and powdered greens, beer, and delicious pesto to enjoy. 
I like to freeze about a couple of quarts of pesto in the spring time.  This will give me about a half-pint per week for a couple of months which is a good supplement for the months when greens are leanest in my diet since I haven't set up my winter gardening system just yet. 
Nettles are great to use for a pesto because of their mild, spinach-like flavor, though you can make pesto using almost any mild wild greens that you enjoy. This nettle pesto recipe is so good you'll have a hard time not eating it all before you even get a chance to store some for later.  For me it's a real exercise in self-control!  
*Disclaimer: If you're new to foraging remember to take it slow. Make sure you are 100% certain that you have positively identified any wild plant you intend to ingest and are aware of any poisonous lookalikes. Try a very small amount of each plant you intend on foraging and make sure you like the taste. Eating a small amount also allows you to see if you experience any kind of allergic reaction even though this is a rare occurrence.  

This stinging nettle pesto recipe will yield about a half-pint of pesto.

Equipment:
-Medium-size pot 
-Skillet
-Mixing spoon
-Rubber spatula (helpful but not required)
-Measuring cups and spoons
-Food processor (best option) or blender 

Ingredients:
-3 cups nettles or your choice of other mild wild greens
-4 cloves peeled garlic
-3/4 cup nuts of your choice
-1/4 cup oil of your choice
-1/2 tsp salt
-1 tbs lemon juice or apple cider vinegar
-3/4 cup parmesan cheese

Directions:
-Bring a pot of water to a boil, with just enough water to submerge the amount of greens you have. 
-Once the water is boiling toss in the greens and cook for about a minute.  
-Spoon the greens into a colander or strainer and let them drain and cool down.
-In the meantime, toss the nuts into a dry skillet and begin toasting them over medium heat, stirring them occasionally to keep them from burning.
heating up the nuts
-Once the greens are drained and cooled, add them to the food processor along with the salt, oil, lemon juice, garlic, and cheese.
-The nuts will become slightly browned and aromatic once toasted.  When they're ready add them to the food processor and pulse until the mixture becomes smooth. 
nuts becoming slightly browned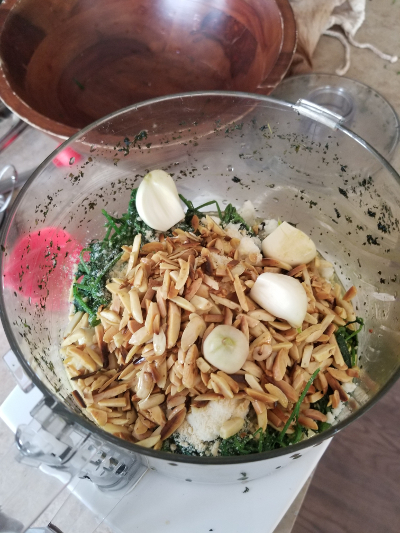 combining the cooked nettle, browned nuts, and other ingredients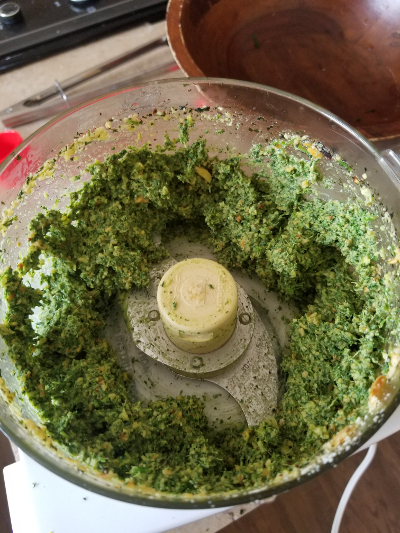 blended pesto
-Scrape out into a storage container and enjoy!  
A daily practice that I enjoy is eating at least one wild food a day!  
Learning to incorporate wild foods into your diet brings with it a sense of empowerment, resiliency, and connection to life on this planet.
Take your time. Know that no one goes from zero to one-hundred overnight. Getting to know what wild plants you can and can't eat is a journey.  Start by foraging for one thing at a time and only collect as much as you think you will use. A great way to jumpstart your foraging is with a wild edible plants class.
Now get out there and gather some grub!

By the way, when you're out foraging for wild plants and mushrooms, it's important to know how to stay safe in the outdoors, especially if you were to get lost. Right now you can get a free copy of our mini survival guide here, where you'll discover six key strategies for outdoor emergencies, plus often-overlooked survival tips.


---
Nettle Pesto Recipe - Additional Resources:
An alternate nettle pesto recipe - from Mountain Rose Herbs

Related Classes:
Learn more sustainable living skills at our Permaculture Courses.
Learn more ethnobotany at our Wild Edible & Medicinal Plants Courses.


---

About the Author: Ben Mardis is an experienced educator that is passionate about permaculture and naturalist skills. He is a guest instructor at Alderleaf. Learn more about Ben Mardis.
---

Return from Nettle Pesto Recipe back to Wild Plants Articles


---
---

Grow Your Outdoor Skills! Get monthly updates on new wilderness skills, upcoming courses, and special opportunities. Join the free Alderleaf eNews and as a welcome gift you'll get a copy of our Mini Survival Guide.