Primitive Stone Tools
Making Primitive Stone Tools for Wilderness Survival Situations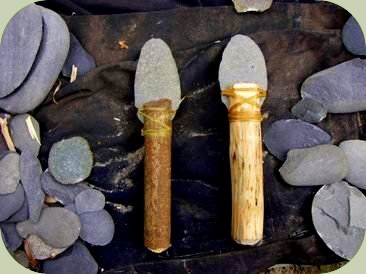 By Jason Knight
Knowledge of primitive stone tools is vital, since one of the most important implements in a survival situation is a good cutting tool. If you were to find yourself without a knife, a stone cutting tool can be created from rocks.
The first step to creating useful primitive stone tools is selecting the best-suited material. A riverbed or creek can be a great place to search for the proper stones.
Look for:
fine grained stones with a consistent texture
rocks that have the highest pitch when tapped
stones that do not have existing cracks or fissures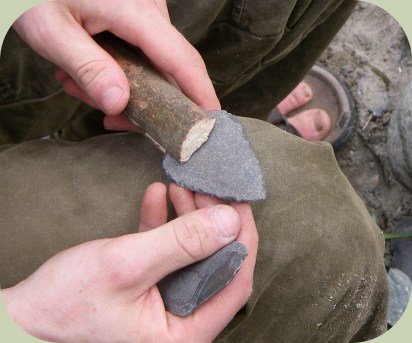 There are numerous techniques for shaping stone into useful working edges (blades). Three common methods are illustrated below:


---
Rock Bash Method

Rock bash is the rough technique of striking one rock into another with great force and seeing what kind of edges/blades might break off. This can be a good way to make your first break into a stone, so that finer work can then be done with other methods such as percussion flaking. Be careful, as this is the least controlled and therefore most hazardous technique.


---
Bi-Polar Percussion
Bi-polar percussion consists of carefully striking a hammer stone directly on top of your subject material while it is placed on an anvil stone. This oftentimes splits the subject material in half, producing two usable edges. This is a very efficient way to create a quick stone tool. "Skipping stones", rocks that are flat with rounded edges, are easiest to break apart using bipolar percussion.


---
Be More Prepared For Your Next Outdoor Adventure!

Don't leave without knowing these six essential survival skills. Our free survival mini guide reveals the strategies of:

Shelter & fire to prevent the number one cause of death

Obtaining clean water to avoid life-threatening dehydration

Common wild survival foods and other critical skills!

---
Percussion Flaking
Percussion flaking consists of using a hammer stone (or heavy billet) to strike the edge of the subject material to break off flakes. This is a controlled method for shaping an edge on a stone. Many rocks are difficult to effectively percussion flake because they are either too brittle or dense. The best materials to percussion flake are flints, cherts, obsidians, and glass.


---

IMPORTANT: Please exercise caution when breaking stones apart. Small shards can project out in any direction. Eye protection is essential. Long-sleeve shirts, pants, and gloves are also recommended.
By utilizing the above techniques, you can quickly create a stone tool to aid in a wilderness survival situation. Happy rock-breaking!

By the way, if you enjoyed this article then you'll love our survival mini guide. You'll discover six key strategies to staying alive in the outdoors plus often-overlooked survival tips. We're currently giving away free copies here.
---

Additional Resources:


Watch our short video on Bi-Polar Percussion

Making Arrowheads The Art of Flint Knapping

How to Make a Stone Knife - OutdoorLife
Survival Stone Tools Class at Alderleaf
---
About the Author: Jason Knight is a cofounder of Alderleaf Wilderness College and the author of The Essential Skills of Wilderness Survival. He has been teaching wilderness skills for over twenty years. Learn more about Jason Knight.


---

Return from Primitive Stone Tools to Wilderness Survival Articles


---
---

Grow Your Outdoor Skills! Get monthly updates on new wilderness skills, upcoming courses, and special opportunities. Join the free Alderleaf eNews and as a welcome gift you'll get a copy of our Mini Survival Guide.