Finding the Best Bushcraft Knife
"How do you choose the best bushcraft knife?" is a question we are often asked. A knife is one of the most potent and versatile tools that you can have with you out in the wilderness, especially if you find yourself in a life-threatening survival situation.
Whether you are starting a fire, building a shelter, creating tools for hunting or fishing, a good knife will make all of your efforts way easier.  If you are going to depend on a tool to save your life it is imperative that you choose the right one. 
There are a wide variety of quality companies out there making knives and your choice will come down to personal taste, but there are some vital considerations to make.  Here are some of the most important things to look for when trying to find the best bushcraft knife for you.  

1.) Fixed Blade, Full Tang

A 'full tang' means that the knife blade and handle are made from one piece of steel that is the same width and thickness.  Many knives are 'partial tang' which means that only a narrow section of metal extends back from the blade into the handle.   
A 'fixed blade' means that it is a non-folding knife.  A folding knife is great for everyday utility activities and is easy to carry around in your pocket or on your belt, but it does not make the best bushcraft knife. 
A bushcraft knife needs to be rugged and able to withstand repeated percussive force and some bending or twisting.  Folding knives, which have a weak spot at their hinge, are much more likely to break under these conditions. 
Keep in mind that just because a knife has a fixed, non-folding blade does not mean that it has a full or even partial tang.  Some cheaper manufacturers attach knife blades to separate handle pieces to skimp on cost.

2.) Quality Steel

Another big consideration when looking for the best bushcraft knife is the quality of metal used to make the blade. Here you will have two main choices: stainless steel or tempered carbon steel. 
Stainless steel is highly resistant to rust due to the fact that a small amount (11% minimum) of chromium and nickel is mixed into the steel during the smelting process.  The downside of stainless steel is that it is brittle, the blade will tend to chip instead of bend when it hits hard substances like bone or rock.  You will also need to sharpen it more often since it does not hold a good cutting edge as well as carbon steel. 
Stainless steel is very useful for household cutlery, surgical instruments and other low impact jobs where rust would be highly inconvenient.  I will sometimes recommend stainless steel to those that have never owned and cared for a knife before (like young students) because other than sharpening it is relatively low maintenance.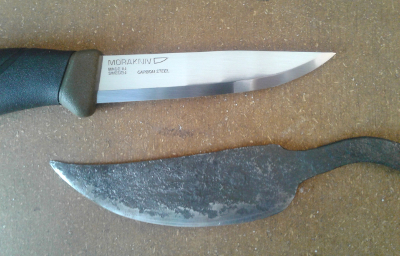 Two examples of carbon steel blades. The top one is a Morakniv machine forged knife in excellent condition. The bottom one is a hand forged blank left rough for a 'forge finish' and coated in beeswax to protect against rust.
Tempered carbon steel is more expensive to make, but produces a blade that is superior in many regards. Chiefly it is stronger than stainless steel, able to withstand far greater bending forces due to its ability to spring back into its original shape. 
There is a whole spectrum of different carbon steels ranging from low carbon content to as high as 2%. The best bushcraft knife steel is either a 1080 or 1095 high carbon steel.  Either one has a great balance of hardness, spring and edge retention. 
Carbon steel requires a lot of maintenance compared to stainless steel.  You must clean your blade thoroughly before storing it, especially if it has been exposed to moisture, acidity or blood, as these will tarnish or rust the metal. 
Both stainless and carbon steels have their merits and downsides, it is up to you to choose which one will be the best bushcraft knife for your needs. 

3.) The Blade Shape

The next decision you need to make is what type of blade do you want your knife to have, as that will greatly influence its use and utility. The term 'bevel' or 'grind' refers to the angle of the blade edge. 
Axes and other chopping tools tend to have a wide bevel since they are used to force apart wood fibers with impact force.  Knives tend to have narrow bevels in order to slice and carve. 
When choosing the best bushcraft knife you should avoid blades with serrated edges, since they are not very useful when carving or processing firewood, and they are difficult to sharpen, requiring a special rod-shaped tool.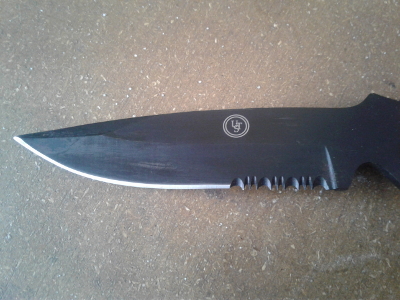 The serrated edge can be useful for cutting rope or processing large animals, but it reduces the overall effective length of the rest of the blade for other tasks.
There are many different types of grinds but the most common ones for bushcraft knives are the 'Scandinavian Grind' which features a single bevel on both sides of the blade edge, and the 'Compound Edge' grind which features two bevels on each side of the blade. Both have their advantages and disadvantages so there is no one right answer here. 
Scandinavian Grind edges are very easy to sharpen and maintain because of the large area of the bevel. 
Compound Edge grinds are more difficult to sharpen and maintain but they tend to be a little stronger and less likely to chip along the edge because they widen more dramatically.

On the left you can see this Buck knife has a hollow sabre grind (a compound edge), the first bevel is concave and sweeps in a curving arc to a smaller bevel which provides the cutting edge. On the right is a typical Scandinavian grind with a single bevel providing the cutting edge.
Another important aspect of blade geometry is the type of tip or point that the knife has. The best bushcraft knife is going to be one that is versatile and rugged, for that reason the best all-around point styles for a generalist bushcraft knife are the drop point and the clip point. 
The drop point features a sloping spine that drops down to a lowered point.  This allows for superb controlled cuts and keeps the tip reinforced for added strength. 
The clip point, made famous in the modern American psyche by the US army's Ka-Bar knife, also features a lowered point with a thick, reinforced spine all the way up to the tip. 
Some clip points (and even some drop point blades) feature a 'swedge' or section of the spine that has been sharpened near the tip.  This allows the knife to be more effective when stabbing or slashing, but is unnecessary for processing firewood or carving.

The Morakniv on the left is a typical clip point. It has a straight spine until there is a shallow angle down towards the very point of the knife. The Buck knife on the right has a typical drop point, the spine curves gently down to a lowered tip. The middle knife is somewhere in between the two in design.
4.) The Handle

Many people probably don't think about this as an important consideration, but if you are looking for the best bushcraft knife to suit your needs the handle has to be very comfortable. Keep in mind that you will likely be using your survival knife in very strenuous conditions doing unusual activities that could take long periods of time.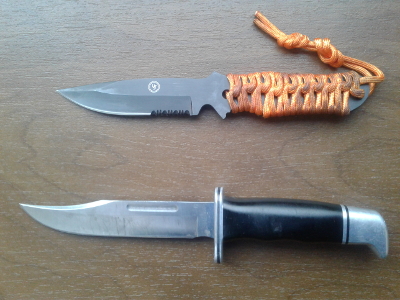 Rough paracord or a large, comfortable handle? Which one will give you blisters faster? There are much easier ways to carry some paracord with you. You don't have to wrap it around your knife handle.
There are a lot of different handle materials out on the market, from textured plastics, to canvas micarta, to wood, pearl, leather wrap, cordage wrap or even antler and bone.  When looking at knife handles it is vital to remember that aesthetics mean nothing in a survival situation.  You will be looking for utility and ruggedness, pure and simple. 
For that reason, I tend to recommend rubberized or micarta handles, they are sturdy, moisture resistant, and easy on your skin even after long strenuous use.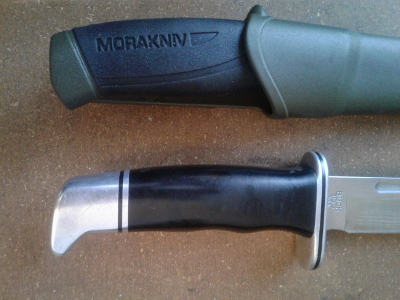 Two different handle materials. The top one is made of rubber and impact resistant plastic, the bottom one is made of metal and resin. Either one is serviceable based on your preference.
There's more to a handle than the material.  The best bushcraft knife for you is going to have a grip shape that works well for your hand.  You're going to want a handle that is long and wide enough to accommodate your palm and fingers. 
You will also want a finger guard or groove to keep your hand from slipping up onto the blade.  Many knives also feature a butt or pommel guard that prevents your hand from slipping backwards off of the handle. 
While it can be tempting to go with a minimalist paracord wrapped handle, you will find that a thicker more robust grip makes your life a lot easier in the backcountry.
5.) Size & Weight

The truth is that the best bushcraft knife is the one you have on you, which means that a giant, heavy duty 8" bushcraft blade isn't going to be very useful if it consistently gets left at home. 
For general use and ease of carry you really don't need a blade more than 5" long (12.7 cm) and 0.25" thick (6.35 mm).  Larger blades are useful for more intense tasks like batoning sizable logs (thicker than your wrist) or batoning down small trees, but you will be less likely to put up with the added weight and bulk for these more uncommon jobs. 
A lighter, smaller blade is also more useful for fine carving, such as making traps, carving thorn fish hooks, processing small game or cutting small shavings to start a fire.


Be More Prepared For Your Next Outdoor Adventure!

Don't leave without knowing these six essential survival skills. Our free survival mini guide reveals the strategies of:

Shelter & fire to prevent the number one cause of death

Obtaining clean water to avoid life-threatening dehydration

Common wild survival foods and other critical skills!

Knives to Consider

Taking all of the above into account, here are a few blades that I would consider to be the best on the market right now.  Which one will be the best bushcraft knife for you is your choice.

Morakniv Garberg or Heavy Duty Companion

Morakniv is a Swedish company that has been making and selling knives for over a hundred years. The Mora classic with its simple red wood handle is an iconic backwoods tool.  Most of their knife line is partial tang, and while they are durable and effective, the survival skills community has long asked them to produce a true full tang blade option. 
Recently they released the Morakniv Garberg, a thick, full tang version of their classic design.  It is available in Swedish made stainless or carbon steel and comes with the option of a handsome leather sheath.

Mora Garberg
If you are looking for a cheaper but still high-quality alternative to the Garberg you can always go with the Morakniv Heavy Duty Companion. At less than half the price you are still getting a thick, robust blade on a well-designed rubberized handle. 
The companion only has a partial tang (¾ to be exact) but I've never had an issue with them breaking even when used and abused. It also comes in stainless or carbon steel.
Both the Garberg and the Heavy-Duty Companion feature a clip point and a Scandinavian grind which is a great combination for all around ruggedness, ease of maintenance and precision cutting.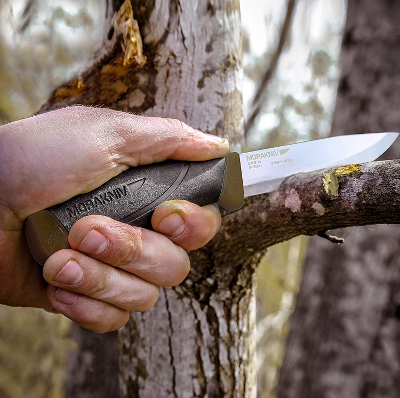 Mora Heavy Duty Companion
ESEE Knives 4 Plain Edge

ESEE has been making knives for over twenty years and their focus has always been on practicality and durability. The 4" blade (10.16 cm) is full tang, carbon steel, and mounted on a contoured canvas micarta handle. 
It has a slight drop point and features a flat ground edge (a type of compound bevel that is highly durable).  The price point is about average for a premium survival knife (around $100) and it would be hard to beat the ESEE 4 Plain Edge for quality at that price range. 
The Plain Edge line also comes in 3, 5, and 6-inch versions if you are looking for the same design and quality in different blade lengths.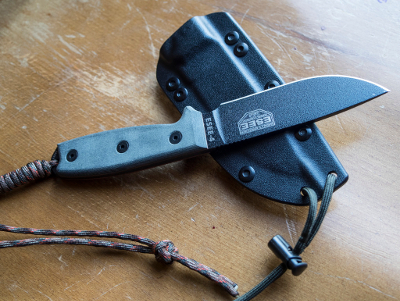 ESEE 4P
Condor Terrasaur

Condor has its roots in Germany dating back to the 18th century. Its modern incarnation produces all manner of knives, tools, swords and axes using German production methods but based out of El Salvador. 
The Terrasaur features a full tang 1095 carbon steel blade with a high impact polypropylene handle. Its design is reminiscent of the Morakniv series, with a Scandinavian grind and a slight clip point. 
I included it on the list because it is fairly cheap for its high quality, and has all of the features to look for in the best bushcraft knife.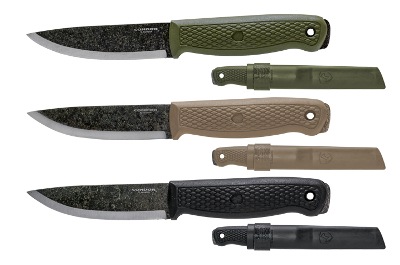 Condor Terrasaur
Conclusions on the Best Bushcraft Knife

There are many quality knife makers in the market right now due to the explosion of popularity that survival skills have enjoyed recently. The brands and knives I listed here are only the tip of the iceberg. 
There is no one best bushcraft knife for everyone, since we all have different tastes in what we are looking for. Be sure to do your research before you make any purchases. 

By the way, if you enjoyed this article then you'll love our survival mini guide. You'll discover six key strategies to staying alive in the outdoors plus often-overlooked survival tips. We're currently giving away free copies here.
---

Additional Resources:
The Mora Knife Website: https://morakniv.se/en/

Learn new ways to use knives at our Wilderness Survival Courses
---

About the Author: Jeremy Williams is an experienced wilderness skills educator and wildlife tracker. He was an instructor at Alderleaf. Learn more about Jeremy Williams.
---

Return from Best Bushcraft Knife back to Wilderness Survival Articles


---
---

Grow Your Outdoor Skills! Get monthly updates on new wilderness skills, upcoming courses, and special opportunities. Join the free Alderleaf eNews and as a welcome gift you'll get a copy of our Mini Survival Guide.