Employment at Alderleaf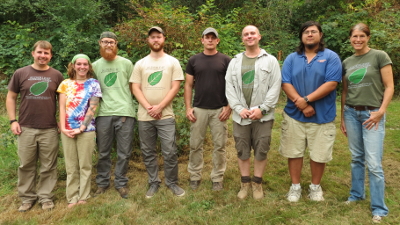 Alderleaf has been growing every year. We can accept resumes at any time of the year and can keep them on file for when new positions open. Typically the hiring process for instructors takes place in the spring for new positions that start in the summer. Current and future openings are listed below:

---
No Current Openings


---

The following positions are not currently open, however we accept applications to keep on file for future openings:
Core Instructor Positions
Core instructors are the primary instructors for Alderleaf courses. They are year-round positions that include teaching at our core programs (including field trips), as well as various other courses (including weekend classes, custom courses, and summer programs). Core instructors are involved with all aspects of the programs, from lead teaching to coordinating trips, assisting guest teachers, and overseeing student progress. Core instructors also assist with outreach including writing articles for the Alderleaf website, taking photos & video clips, as well as caring for classrooms & the land, and various other support tasks.
Instructor positions are exempt, salaried positions.
Core Instructor Responsibilities Include:
Instructing at Alderleaf courses
Coordinating program logistics
Assisting with outreach and other support tasks
Core Instructor Qualifications:
Required:
Experience instructing in at least several of our core curriculum areas: wilderness survival; ethnobotany (edible/medicinal wild plants); naturalist skills; wildlife tracking; permaculture/sustainability; and outdoor education. (currently the strongest needs are in ethnobotany and permaculture)
Good leadership, communication and writing skills
Wilderness first aid certification
Computer / office skills
Willingness to work a variable schedule and periodic weekends
Ability to perform moderate physical work, lifting up to 50 pounds

Preferred (though not required):
Familiarity with Alderleaf's courses and curriculum, AWCP graduate
Bachelor or Master's degree in an environmental or education field
Basic videography skills - experience producing short videos for the web
Core Instructor Compensation:
Annual starting salary range of $38,000 to $42,000 for full-time positions averaging 5 days/week (depending on experience & qualifications). Benefits: Paid time off for five major holidays plus additional paid vacation/sick time.
To Apply for a Core Instructor Position:
Send a cover letter, resume, completed general employment application, and instructor questionnaire to: jasonk@wildernesscollege.com.
Top candidates will be contacted to schedule.

---
Admissions Assistant Position
The half-time admissions assistant position plays a key role in supporting the Office/Admissions Manager and Program Director by communicating with prospective students and occasionally filling in for the Office/Admissions Manager. 
Admissions Assistant Primary Responsibilities Include:
Responding to inquiries from prospective students interested in the Alderleaf Wilderness Certification Program (AWCP) 
Reaching out with calls, emails, and texts to many prospective students each day, to learn about their goals and share about the experience of AWCP
Creating and updating records on each prospective student
Being the "face" of the school with prospective students
Secondary Responsibilities (when supporting or filling in for the Office/Admissions Manager) Include:
Registering students, processing payments, invoicing, data entry
Interviewing students, giving tours, processing applications, assisting students
Keeping the office and classrooms neat, clean, and organized
Assisting with various outreach tasks and projects
Miscellaneous projects and tasks to assist with the general functioning of the organization
Admissions Assistant Job Requirements:
Professional demeanor
Upbeat and positive attitude at all times
Excellent customer service skills
Clear and concise communication, both written and verbal
Detail oriented and organized
Comfortable working independently on tasks
Good time management skills
Values environmental education
Admissions Assistant Required Qualifications:
High School Diploma
Fluent in English
Proficient with Microsoft Word, Excel, and web-based email
Ability to sit for long periods of time at a desk and use a keyboard and computer screen are essential
Ability to be on the phone for most of the work day
Preferred Qualifications (though not required):
AWCP graduate, or attended other Alderleaf classes, or other environmental education (such as NOLS or Outward Bound, etc…)
Admissions Assistant Work Schedule: 
Half-time (20 hours per week). There is some flexibility in the design of the weekly schedule (for examples: could be half days Monday through Friday; or full days on Mondays and Fridays with half days on Wednesdays; or fit around attendance of AWSP). Work location is at our office on our campus outside Monroe, WA.
Admission Assistant Compensation: 
Hourly (non-exempt position), $16-17 per hour, depending on experience. Benefits: Paid time off for five major holidays plus additional paid vacation/sick time.
To Apply for the Admissions Assistant Position:
Email a cover letter that expresses your qualifications for the position, a resume, and a completed general employment application to jasonk@wildernesscollege.com. 
Top candidates will be contacted to schedule an interview.
---
Learn about our team on the Alderleaf faculty page.
---
Knowledge is Power - Grow Your Wilderness Skills! Get monthly updates on new wilderness skills articles, upcoming courses, and special opportunities. Join the free Alderleaf eNewsletter: