Survival Week:
AWCP Week 32 2014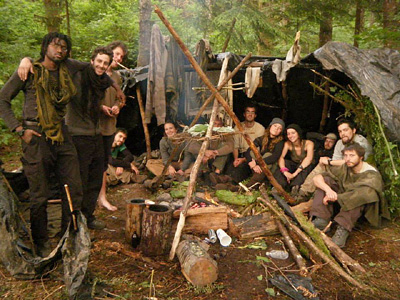 During the first week of June 2014, our Alderleaf Wilderness Certification Program students were in the field on their final trip practicing wilderness survival through direct immersion.
This intense 4 day and 4 night experience involved being out in the wild with no modern tools.  The students had to work together to utilize only those resources available to them on the land to meet the basic needs of survival: shelter, fire, water and food.
The incredible challenge of this trip was made achievable through team-work and through the 9 months of study leading up to it.
These skills included making group shelters, safely purifying water and starting fires from friction.  Of course, their knowledge of wild food foraging becomes vital in this experience. 

Here 2 students work together to prepare some wild edibles using the large, broad leaves of skunk cabbage as a platter. 

Here another student wraps a snake around a stick before cooking it over a fire.  Actively and consciously taking the life of plants and animals is part of the challenge presented by a wilderness survival situation. 

On Friday morning, students emerged from the survival experience.  Using the skills they have learned, they not only survived, but thrived.  They came away from their experience truly understanding what it takes to make it and knowing their own confidence in the skills they have acquired this year.
We were very proud to welcome them back!

Special thanks to student Ali for taking these pictures during the group's time in the field!


---

Next: Week 33: Graduation


---

Learn about the Alderleaf Wilderness Certification Program, our in-depth, nine-month course that trains students in wilderness survival, permaculture, wild edible & medicinal plants, wildlife tracking, naturalist, and outdoor leadership skills.


---

Return back to AWCP Highlights


---
---
---

Grow Your Outdoor Skills! Get monthly updates on new wilderness skills, upcoming courses, and special opportunities. Join the free Alderleaf eNews and as a welcome gift you'll get a copy of our Mini Survival Guide.