Survival Bow Making 2014: Week 20

This week at the Alderleaf Wilderness Certification Program the students learned how to make survival bows. A survival bow is bow made immediately after harvesting a stave (so that you can use it right away when in a survival situation). For a long-term bow you would want to let the wood season for at least a year.

Not only did the students learn additional carving techniques but they also got to learn more about the used of vine maple (Acer circinatum). Vine maple is a great choice of wood for survival bows. Not only is it a hard wood, but it grows as a shrub like tree with slender trunks. The slender trunks don't require much carving and are perfect for survival bows. There is a sense of empowerment when you are able to go out and find a piece of wood on the landscape and make something useful out of it.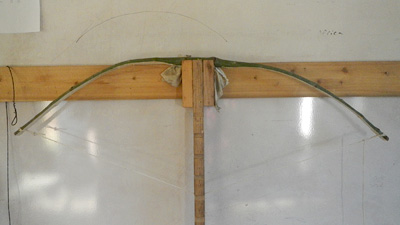 Here a bow is going through a tillering check. The tillering process is making sure both sides of the bow bend evenly. Not only do you want each limb to bend evenly, you also want each limb to bend with the exact the same curvature - they should be a mirror image of each other. This is perhaps the most important part in making your bow. If one side of your bow bends less, that is the side you will want to remove more material from. Continue doing this until both limbs bend equally and evenly.

Here Alderleaf Instructor Jeremy demonstrates how to string a bow using the step through method.

After the students finished their bows they got to have an archery competition.  Survival bows work quite well and if you care for them properly can last a long time.


---

Next: Weeks 21 & 22: Habitat Restoration and Pine Needle Basketry


---

Learn about the Alderleaf Wilderness Certification Program, our in-depth, nine-month course that trains students in wilderness survival, permaculture, wild edible & medicinal plants, wildlife tracking, naturalist, and outdoor leadership skills.


---

Return back to AWCP Highlights


---
---
---

Discover Life-Saving Wilderness Wisdom!
The Essential Skills of Wilderness Survival 
This masterfully-organized guide will empower you to survive emergencies and grow deeper connections to nature, with expert instructor, Jason Knight of Alderleaf.

(Shop Now) On sale for a limited time
---
---