The Mora Knife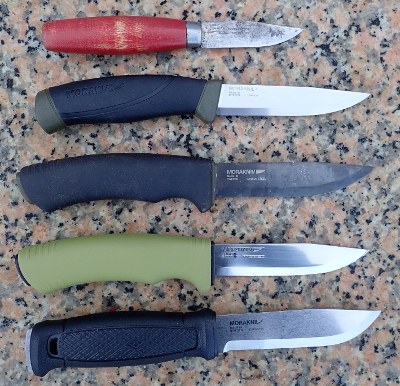 Understanding the Features of Quality Survival Knives
The Mora knife, specifically the Companion and Bushcraft models, are excellent survival knives. Understanding what features to look for will help you evaluate any knife.
The knife is one of our most important tools in the wilderness. For many of us, it's the last tool we would choose to set down or leave behind when heading into the backcountry.
We can, of course, fracture stones in the pursuit of a cutting edge, but steel isn't only used because it's a more durable material; steel saves us time. Time is often a limited resource in a wilderness setting, especially within the context of a survival situation. For some tasks, the use of a steel knife in place of sharp stones can save us many hours of work.
"So what knife should you get?"
With bushcraft, survival, and preparedness as popular as they are, it seems like there are almost too many knives available to choose from. Along with readily available and contradictory recommendations found online, choosing a good knife, especially your first, can be more difficult than it needs to be. 
However, by keeping just a few basic things in mind the process is made much easier. If you're in the market, I'm going to recommend you look at getting a Mora knife, either the Morakniv Companion or Morakniv Bushcraft, but first here are some things to consider when looking at any knife:
• Intended Use
• Construction
• Blade Geometry
• Grind
• Size
• Steel
Let's take a look at each one of these in turn before moving on to specifications:

1. Intended Use:
Although any knife can be brought to bear on a broad range of tasks, the spectrum of applications for which it is best suited is much narrower. Even though you probably could, you wouldn't typically slice a tomato with a butter knife if you had a chef's knife available, and you probably wouldn't use that chef's knife to carve a friction fire kit.
Think about what you need the knife for and what you will most likely be using it for most often.
Will you be doing a lot of food prep?
Cutting flaps off cardboard boxes?
Carving wood?
Batoning and splitting wood?
Chopping?
Skinning animals?
Some folks tend to fixate on the idea of a one tool solution, but I prefer to have the right tool for the job, and don't mind having more than one.

2. Construction:
The main thing to think about here is whether you want a folding knife or a fixed blade knife. Because of their compact nature, folding knives are great for carrying as you go about your daily business and are generally intended for lighter use. The problem with folding knives is that the mechanism can fail if put under strain, and can be difficult to keep clean.
Fixed blade knives are better for heavier or extended use. Because the blade is static, there's no chance of a folding mechanism failing, and maintenance is much simpler. Fixed blades are what you are usually looking at for bushcraft applications.
Also consider handle construction. For heavier use, you'll want a knife with a 'full tang.' The tang is the continuation of the blade into the handle, and a full tang is one that spans the length of the handle. This lends the tool strength. The handle should fit in your hand comfortably, and I avoid anything with sharp edges or grooves. Simple handles are usually the most comfortable to use. Those that go out of their way to look interesting are less likely to fit your hand.

3. Blade geometry:
I'm mostly referring to the shape of the blade here. There are a number of archetypal blade designs used by knife manufactures, with differing degrees of variation based on make and model.
Examples include: spear point, drop point, puukko, and bowie. Your choice here is largely personal, based on how you like to use your knife and aesthetics.
What you want to avoid are knives that are too creative. Watch out for blades with unique 'features' or dramatic curves. Although these knives may be nice to look at, overly creative designs are often an impediment to efficient use and maintenance of the blade. I prefer a straight, plain cutting edge. Simplicity is beautiful.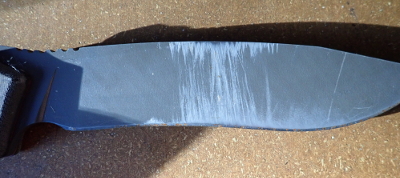 The creative curve on this blade is aesthetically pleasing, but difficult to sharpen.

4. Grind:
This is how the knife is beveled down to the cutting edge. There are a number of different grinds, but the two I typically recommend for outdoor use are full flat grinds and Scandinavian (Scandi) grinds.
Both are good for general use, but full flat grinds are slightly better for food prep or cutting through meat, and Scandinavian grinds are slightly better for shaping wood. 'Scandi' grinds are also easier to sharpen, especially for beginners, because the bevel can be laid directly on the stone. Mora knives all come with a Scandinavian grind.

5. Size:
Keep your intended use in mind when thinking about the size of your knife. Many folks go out for a knife and end up with a machete or vice versa. Smaller blades are better suited for articulate tasks such as carving or skinning, and larger blades tend to be better suited for more intense tasks such as chopping or splitting wood.
Consider that if you're mostly going to be chopping and splitting a lot of wood, you may be looking for an axe or machete rather than a knife.
Knives with a blade length between 3 ½ and 5 inches lend themselves well to general use in the woods. Blade thickness is good to consider as well. A thinner blade will slice and carver better. A more robust blade will stand up better under heavy use. I prefer knives with relatively thin blades.


Be More Prepared For Your Next Outdoor Adventure!

Don't leave without knowing these six essential survival skills. Our free survival mini guide reveals the strategies of:

Shelter & fire to prevent the number one cause of death

Obtaining clean water to avoid life-threatening dehydration

Common wild survival foods and other critical skills!


6. Steel:

The intricacies of metallurgy are beyond the scope article, however some basic ideas of what you're looking for in steel are helpful. Bear in mind that these are generalizations, and as such also simplifications.
The two main types of steel you'll be looking at are carbon steel and stainless steel. In its most basic form, steel is an alloy of iron and carbon. Carbon steel has a relatively high percentage of carbon. Stainless steel also has chromium added to the alloy.
Carbon steel is harder and holds a keener edge for a longer time, but is also susceptible to corrosion.
Stainless steel dulls faster and doesn't sharpen to as fine an edge, but because of the chromium content is more resistant to corrosion.
Both of these take some degree of maintenance. Carbon steel needs to be kept dry or oiled to prevent rust, and stainless needs to be sharpened more frequently. I find that I would rather deal with corrosion than an inferior edge, and the rust on carbon steel is usually cosmetic.
If you don't mind oiling and occasionally cleaning up your blade, or live in a dry environment, go with carbon. If you don't want to deal with rust, go stainless.
There are also very high quality modern 'super steels' (e.g. cpm-3v or s30v) available that seek to improve upon the virtues of these two basic types, but they can be expensive or difficult to sharpen. I would recommend waiting to migrate towards these until you have some experience with knives.

Additional Considerations:
An additional thing you need to consider is the interaction of price and personal preference. Many of the variables in the knife market come down to personal preference; how you like to use a knife and what you like to use it for. However, when you buy your first knife, you don't have any of this figured out yet. You don't know what you use a blade for most often until you get out and use one. You don't know what size blade you like, what geometry you prefer, which grind works best for you, or what kind of steel you like. Without some experience, your decision often has to be based on aesthetics and recommendations alone. If you go out and buy an expensive knife and realize you don't like it or it's not what you need, you're stuck with it. That's why I recommend picking up a Mora knife. You can generally find the Morakniv Companion for between $13 and $25 and it fits all the criteria for a good all-around field knife.
The Companion is Mora's most basic knife model.
Mora Knife - Companion Specifications:
Overall Length: 8.5 inches

Blade Length: 4 inches
Blade Thickness: .100 inches
Weight: 2.9 oz.
Clip Point
Scandinavian Grind
Carbon or Stainless
Partial tang
Polymer sheath
In contrast, the Morakniv Bushcraft is a slightly more robust Mora knife and is available from between $35 and $70. Also called the Mora Bushcraft Black, it has a subtly longer and thicker blade, a coating that helps mitigate corrosion, and a harder angle on the spine which makes it better for striking a ferro rod. There is also an upgraded sheath available with this Mora knife that incorporates a ferro rod and small diamond sharpening plate. Even though I own more expensive knives, this Mora knife is one of my primary go-to blades.

Mora Companion on the left and Mora Bushcraft on right.
Comparing Mora knife spines - Companion on top, Bushcraft on bottom.

One downside to most Mora knives is their partial tang construction. Because the tang only spans about 2/3 the length of the handle, some care needs to be taken when using these knives for high intensity tasks such as batoning. That being said, I have owned and batoned with both of these knives and never had any issue. Mora also sells a full tang model now, the Morakniv Garberg, but the price tag is significantly higher. The dimensions of this model of Mora knife are similar to the Bushcraft Black, but it's heavier due to the full tang construction. The Garberg Mora knife would be a good first choice for someone looking to get a more robust blade. That being said, I highly recommend going with the Companion as an initial foray into the knife market.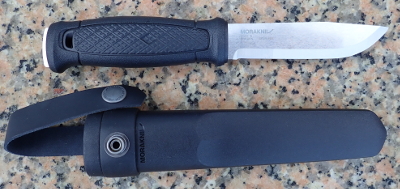 Mora Garberg

Conclusion
Because Mora knives are so affordable, especially relative to their quality, I almost universally recommend them to first time knife buyers or even folks looking to try a different style of knife.
The pragmatic design of the Mora knife excels in the outdoors and allows you to develop a sense of what you want out of a knife without having to spend an exorbitant amount of money in the process. You don't learn to drive in a Ferrari! Once you develop more experience with a knife and have a good idea of what you're looking for, you can spring for a more expensive, or even custom blade if you want, but there's a good chance you'll be just as happy with the $15 Mora knife anyway.

By the way, if you enjoyed this article then you'll love our survival mini guide. You'll discover six key strategies to staying alive in the outdoors plus often-overlooked survival tips. We're currently giving away free copies here.
---

Related Resources:
The More Knife Website: https://morakniv.se/en/
Mora Knife Companion on Amazon.com
Learn how to use knives for wilderness skills at our Survival Courses

---

About the Author: Jedidiah Forsyth is an experienced outdoor educator and wildlife tracker. He is a guest instructor at Alderleaf Wilderness College. Learn more about Jedidiah Forsyth.
---

Return from Mora Knife Article back to Wilderness Survival Articles
---
---

Grow Your Outdoor Skills! Get monthly updates on new wilderness skills, upcoming courses, and special opportunities. Join the free Alderleaf eNews and as a welcome gift you'll get a copy of our Mini Survival Guide.