AWCP Career Day 2014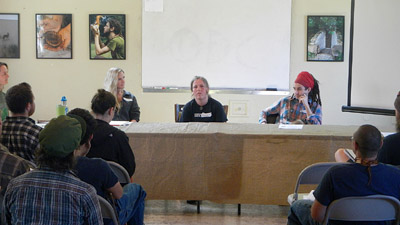 Students in the Alderleaf Wilderness Certification Program (AWCP) had the opportunity to meet with Alderleaf alumni and other amazing folks working in nature-based careers at our career preparation / alumni class day.  As the school year is nearing completion, this gives the students a chance to network and learn more about possible career pathways after completing AWCP.
There were several panels of people working in various fields including naturalist skills & wildlife tracking, outdoor education & wilderness therapy, ethnobotany, wilderness survival skills, and permaculture. Each panelist spoke about their experience working in their field. This also gave students a special opportunity to ask direct questions about what its really like, what it takes to be successful in this kind of employment and also to seek advice about possible next steps after Alderleaf.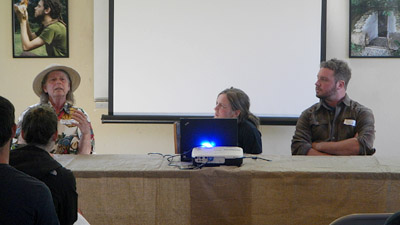 Here panelist EagleSong Gardener from RavenCroft speaks about her experience with careers in permaculture and ethnobotany.  Her many years of teaching experience were very inspiring to hear about.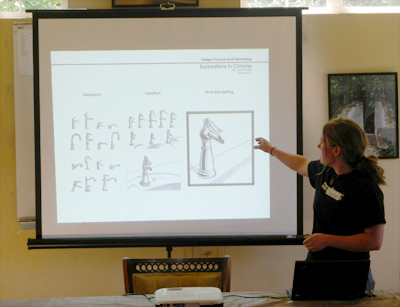 Here Alderleaf Graduate Jamie shares some of her permaculture portfolio with the students.  Specifically Jaime is talking about how using visual arts skills helped her gain work and improve her permaculture designs. Concrete examples of high quality work such as this are great ways to impress potential employers and clients.

Students learned a variety of important practices including making an effective portfolio, networking, and communicating with potential employers even when they are not advertising for positions. 
As we near the end of the 2013-2014 school year, this class helps students leave Alderleaf with more confidence and information about how to continue their learning journey and move into a rewarding career.

Here's the bios of the inspiring panelists in attendance:

Jeremy Cobb (Class of '13) is a former executive chef and Pizzaiolo. His pizzeria, The Next Door Deli, garnished a reputation for authenticity and locally sourced ingredients. Everything from sauce to sausage was made in house. As a boy Jeremy learned this D.I.Y. attitude from his family. His grandmothers and aunts taught him how to harvest, cook and preserve the foods that they grew. His Uncle John taught him to hunt game. His mother and father still live on the pony farm where he was raised. After reading Tom Brown Jr.'s book, "The Tracker", Jeremy began a lifelong enthusiasm for wilderness skills. After years of personal study in the woods of the Northeast and Sonoran Desert, he began to study anthropology at the University of Arizona to better understand the development of the human race. This line of study eventually brought him to Alderleaf Wilderness College, Where he is currently an apprentice. He plans to continue his study of Wilderness and Primitive skills as a student of Anthropology at Portland State University.

Dr. Jenn Dazey is a core faculty member in the Department of Botanical Medicine at Bastyr University. She sees patients in her private practice at Green Bean Natural Health in Monroe, Washington. Dr. Dazey's background includes both clinical and teaching experience. She has worked as an herbalist in private consulting since 2003, and as a primary care physician since 2008. Dr. Dazey also has worked at Evergreen Hospital in adult health education. Dr. Dazey grew up on a local subsistence farm in Duvall, WA, and has been teaching organic gardening and many other topics related to soil and land management since 2002. At Bastyr University, Dr. Dazey teaches herbal materia medica and clinical herbalism to graduate and undergraduate students, as well as organic gardening, soil ecology, seed saving, and biointensive IPM for the certificate program in Holistic Landscape Design. She leads students abroad to study medicinal plants in Costa Rica and Peru, as well as locally and in the San Juan Islands. Dr. Dazey specializes in the use of herbal medicine in her private practice, and has a special interest in natural cultivation and primitive processing of medicinal plants.

EagleSong Evans Gardener yarn spinner, story catcher, weaver of hearth and soul with earth and soil at Nebari Gardens is a seasoned, sustainable gardener. She brings over 30 years experience in organic and sustainable practices to every garden she creates and tends. Practicing Integrated Earth Medicine for a sustained future, EagleSong is a compassionate voice for health/wholeness/holiness found by living in harmony with earth and dancing with the seasons. Formerly, the Director of Natural Beauty at Willows Lodge in Woodinville, WA she designed and implements sustainable landscape management systems for Willows Lodge and The Herbfarm Restaurant both of which are recognized with 5-Star Environmental ratings from King County's nationally acclaimed Enviro-Star program. An avid herbalist and kitchen gardener, EagleSong founded RavenCroft Garden in 1992. A recent global shift morphed the gardens into a new and wholly fabulous creation, Nebari Gardens, home of the flumdiddley kitchen, in Monroe, WA. In this ever-simmering cauldron of possibility, recipes for cultivating a life with meaning are dispensed through Healing From the Ground Up, a community-centered herbal apprentice program.

Jason Knight is the program director at the Wilderness Certification Program and a co-founder of Alderleaf Wilderness College. He has taught nature skills for over fifteen years, with expertise in animal tracking and wilderness survival skills. He is a seasoned wildlife biologist and wilderness educator, having worked with conservation organizations, government agencies, and in the private sector. Jason is certified as a Track & Sign Specialist and Trailing Level III through CyberTracker Conservation International . He received a Bachelor of Science in Wildlife Ecology & Environmental Education from The Evergreen State College and holds a Permaculture Design Certificate. Jason has managed cougar studies for the Washington State Department of Fish & Wildlife and assisted with gray wolf research in central Idaho. He consulted on many wildlife projects through Wetland Resources, Inc. Jason also enjoys studying sustainability issues, spending time with his family, and playing guitar.

Patrick Loderhose (Class of '12) Upon graduation from Alderleaf, Patrick immediately went to intern and worked closely with a Seattle based permaculture designer. In this time, he took several courses while assisting as a lead garden intern and design assistant. As design assistant, he worked on many designs ranging from small urban lots to a full scale 200 acre retreat center. On this design, he was in charge of collecting and compiling data to produce a wildlife survey. After a year of interning, he was made lead on a 9 month hands on Permaculture Design Course intensive. During this course, he was sent to Los Angeles to be trained as a greywater installer. Currently, Patrick is working with state and local governments to push along the use of greywater, contracting independently for survival courses and teaching greywater install courses.

Chris Pearson (Class of '11) Since graduating from Alderleaf in 2011, Christopher has worked in a variety of indoor/outdoor educational capacities. Throughout the school year, he works for tutoring companies that assist students K-12 with homework and provide math instruction at tribal high schools to prepare students for the state-mandated end of course exams. Outside the classroom, Christopher has taught fire-building, shelter construction, animal tracking and plant identification to children as a volunteer at the Tacoma Nature Center. Additionally, he has spent the past two summers guiding backpacking and leadership development expeditions for teenage boys through the YMCA BOLD program. These trips typically last one to two weeks and are held on the Olympic coast or in the North Cascades. This summer, however, he is scheduled to lead high school students on a service-learning trip to a village in India.

Julia Perry MA LMHC CDP, is a Licensed Mental Health Therapist & Licensed Drug and Alcohol Therapist with private practice in Duvall WA. She has worked as a counselor for 14 yrs at various agencies in WA and OR. She is a Wilderness Therapist & Wilderness Guide and has worked for Catherine Freer Wilderness Therapy Expeditions and been a lead guide and lead therapist for 21 day expeditions for teens in OR, WA, and CA. She was also a lead guide for Rites of Passage and Vision Quests (summers 1999-2011) for Journeys Rites of Passage. She designed and led 21 day, 14 day and 9 day Vision Quests and Rites of Passage for Adults and Teens from for 15 summers. Julia was also be a primitive skills educator and nature mentor at Vashon Wilderness Program, a weekly day program for youth.

Filip A. Tkaczyk is a core instructor at Alderleaf. He is an experienced naturalist who has extensively studied the ecosystems of Washington state for a decade. He is certified as a Track & Sign Specialist, holds a Permaculture Design Certificate, and earned a B.S. in Wildlife Science from the University of Washington. Included in his experiences as a naturalist, he has lead bird walks with Seattle Audubon and taught tracking/outdoors skills to adults and youth for various organizations such as the Wildlife Society. Filip has also worked with the Olympic National Park conducting bat research, and for the University of Washington, leading an in-depth study on nutria in the Seattle area. He is also a professional nature photographer who has captured wildlife images around the world. Fil is a graduate of Wilderness Awareness School. For enjoyment, he gleefully pursues his childhood passion of obsessively studying the mysteries of the natural world.

Jamie Weaver (Class of '12) went on to complete Alderleaf's Instructor Apprenticeship. She was then hired as a wilderness instructor at Primitive Pursuits in New York State. Prior to teaching wilderness skills she spent 10 years as a snowboard instructor and raft guide. She's now attending Western Washington University where she is completing a degree in Integrated Ecological Design. Through this process she has been developing a professional permaculture design portfolio and taught a course entitled Applied Human Ecology, which focused on ecological processes, wilderness skills and sustainable systems. After graduating in June she will be spending the next year living and working on a permaculture farm and doing design work.

Jeremy Williams (Class of '12) is a core instructor at Alderleaf. He has a deep commitment to survival skills and outdoor education. Jeremy holds a Level III Track & Sign certification through CyberTracker Conservation International and holds a Permaculture Design Certificate. In addition, he is also a graduate of both the Wilderness Instructor Apprenticeship and the Wilderness Certification Program at Alderleaf. Jeremy has worked with Conservation Northwest as a volunteer tracking team leader and enjoys using his skills to help the denizens of the wild. He grew up in Portland, Oregon and has loved camping and hiking from a young age. In 2009 he completed an Organic Farming apprenticeship through the ATTRA organization. In 2010 he hiked the entire length of the Pacific Crest Trail from Mexico to Canada. Jeremy enjoys archery, studying tracks, and long walks in the woods in his spare time.

Julie Wright is a graduate of the Anake Outdoor School (AOS) and the Anake Leadership Program through Wilderness Awareness School. She also holds a Level III Track and Sign identification certificate through CyberTracker Conservation. Julie has a Master's degree in Biological Oceanography from the University of Washington.Julie was a participant on the new Discovery Channel Survival Show "Naked and Afraid", June 2013. Julie shares about her experience: "This was by far the most difficult challenge I've ever taken. It really pushed me to my limits. I learned that I'm very strong physically, mentally and emotionally. The AOS experience really helped me have what it takes to survive out there, the peacemaking, fire-making and understanding what it's like to encounter my limits really helped me shine. The jungle was a different universe, relentless at times, beautiful at others, and always a hungry place full of bizarre creatures and trees."


---

Next: Weeks 29-31: Spring Edibles, Permaculture Projects, Scout Week


---

Learn about the Alderleaf Wilderness Certification Program, our in-depth, nine-month course that trains students in wilderness survival, permaculture, wild edible & medicinal plants, wildlife tracking, naturalist, and outdoor leadership skills.


---

Return back to AWCP Highlights


---
---
---

Grow Your Outdoor Skills! Get monthly updates on new wilderness skills articles, upcoming courses, and special opportunities. Join the free Alderleaf eNews and as a bonus you'll get a copy of our mini survival guide: