Permaculture Design Course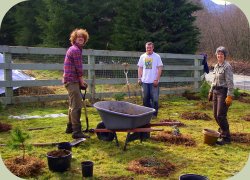 Permaculture Design Course
Program Details:
Dates: Aug 3 - 16, 2014
Location: Alderleaf Farm, Monroe, WA
Early Registration Deadline: Apr 30
Late Registration Deadline: Jun 30
Register

Learn how to work with nature to create a more sustainable world!
Earn a Permaculture Design Certificate while gaining hands-on experience on our permaculture farm and wilderness campus. The Permaculture Design Course is a two week course focusing on permaculture design principles, ecology, and sustainable living skills.
Learn about:
Permaculture ethics, principles, & strategies
Sectors, zones, and micro-climate analysis
Food forests & companion planting
Organic food gardening
Building with natural materials
Animal husbandry
Mushroom foraging & propagation
Rainwater harvesting & water retention
Sustainable resources & alternative energy
Pond management & aquaculture
Plant propagation, pruning, & grafting
Soil building & sheet mulching
Nature studies & ecology
Landscape design & planning
The course blends permaculture principles with a holistic knowledge of nature where theory is put into practice. You gain the knowledge and skills needed to design and implement sustainable living systems in balance with natural ecosystems. Each class day is a blend of instruction and experiential learning with projects on the farm and in the forest.
Through this course you become proficient at applying nature-based permaculture design for both personal and professional use, to promote healthy communities and a meaningful, fulfilling lifestyle. Upon completion of the course, you receive a Permaculture Design Certificate, an internationally-recognized credential for sustainability consulting.
The course takes place at Alderleaf Farm in Monroe, WA. Our beautiful 15 acre property is nestled in the foothills of the Cascade Mountains 35 miles east of Seattle. It is an evolving model of environmental sustainability and features our classrooms, office, two homes, cabins, ponds, a large creek, forested land, pastures, many gardens, chickens, sheep, and food forests.


---

The Permaculture Design Course at a Glance:
Location: Based out of our campus in Monroe, WA in the Seattle / Puget Sound Region of Washington State in the Pacific Northwest.
Duration: Thirteen class days from August 3 through August 16, 2014. Class run all day with optional evening sessions and a Saturday break mid-course.
Course Fee: $1195. Includes all instruction, on-site camping, and breakfasts/lunches.
Suggested Reading: Permaculture: A Designer's Manual by Bill Mollison, Permaculture: Principles and Pathways Beyond Sustainability by David Holmgren, and The New Self Sufficient Gardener by John Seymour.
To Register: Visit our Course Registration Page.

Optional Further Study: For continued study of nature skills and sustainability, the Alderleaf Wilderness Certification Program offers a comprehensive curriculum.
Questions / More Information: Please visit the Frequently Asked Questions page and feel free to contact us if you need further information.


Why complete a Permaculture Design Certificate at Alderleaf?

Having a firm grasp of ecological principles is a vital component in becoming an effective permaculture designer. Permaculture is a design system based on ecology, the relationships between natural systems. What makes the Permaculture Design Course at Alderleaf unique is that ecological principles and nature skills are taught alongside the standard permaculture design curriculum. This key foundation of knowledge enables you to become a more competent permaculture designer.


---
Past Instructors Have Included: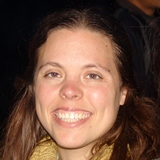 Marisha Auerbach: Marisha has been actively practicing, studying, and teaching Permaculture in the Pacific Northwest for over a decade, specializing in food production, seedsaving, ecology, and useful plants. Her practical experience has been gained while living in both rural and urban locations. Currently, Marisha is employed as a permaculture teacher working for universities including Bastyr University, Oregon State University, and Pacific University. She also works with a number of non-profit organizations including The City Repair Project, Aprovecho Education Center, Lost Valley Education Center, Fertile Ground Community Center, and Planet Repair. Marisha sits on the Board of Directors of Cascadia Permaculture Institute and the Northwest Permaculture Convergence.
Marisha is committed to sharing her passions for food security, seedsaving, permaculture, ecology, cottage industry, and positive futures. She has developed several permaculture based businesses including providing edible flowers and other gourmet specialty food items to restaurants, plantable greeting cards, a plant nursery, and herbal medicines. Marisha has offered permaculture work from the forests of Vietnam to the Rocky Mountains of the United States to the stressed conditions of Haiti. She holds advanced permaculture certificates in Permaculture Aid Work and Keyline Planning.
Marisha graduated from the Evergreen State College in 1998 where she focused on ethnobotany, ecological agriculture, and sustainability studies. She currently resides in Portland, OR. Marisha can be found online at www.herbnwisdom.com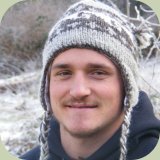 Steve Nicolini: Steve is a core instructor and the land steward at Alderleaf. He helps coordinate and implement the master permaculture plan on campus. Steve is also the owner of Rejuvenation Flowscapes, a permaculture-based landscape design business specializing in edible forest gardens. He holds a Level 3 Track & Sign certification through CyberTracker International and holds a Permaculture Design Certificate & Permaculture Teacher Training Certificate. Some of his hobbies include woodworking, playing the banjo, and harvesting wild foods.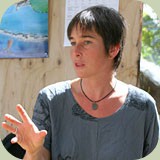 Jenny Pell: Jenny is a leading permaculture consultant and educator. She has many years of experience designing permaculture projects with expertise in natural building and community living. Jenny's recent projects include the Beacon Food Forest (an urban permaculture demonstration site in Seattle), and Community by Design (a small farm incubator near Portland). Jenny's slideshows and presentations inform, inspire, and motivate people to make changes that help move us towards a sustainable future. Learn more about Jenny at PermacultureNow.com


---
Register for the Permaculture Design Course
---