The Essential Skills of Wilderness Survival
A Guide to Shelter, Water, Fire, Food, Navigation, and Survival Kits
#1 Best Selling Outdoor Survival Skills Book on Amazon.com (Oct 2022)
#1 Best Selling Hiking & Camping Instructional Guide on Amazon.com
#1 Best Selling Survival & Emergency Preparedness Book on Amazon.com
Top 100 Best Selling Book on Barnes & Noble (peaked at #54)
112 reviews with a 4.8 out of 5 star rating
About the Book:
The Essential Skills of Wilderness Survival shows you our systematic approach to wilderness survival that will increase your confidence in the outdoors and teach you exactly what to do, and in what order, if you find yourself in a survival situation.

You will learn how to:
build shelter from natural materials that keep you warm and protected from the elements
find water and purify it with or without equipment
start campfires even in the pouring rain without matches or lighters
recognize staple wild foods
navigate with and without the aid of a map and compass
create the right type of survival kit to be prepared for nearly any emergency
The techniques presented in The Essential Skills of Wilderness Survival will help you see the wilderness as a community of allies ready to supply you with survival needs - from wood for a fire-starting kit to wild edible plants to sustain you. You'll enjoy the freedom of exploring remote areas, and become a valuable resource for others.


---

"Whether you're a seasoned nature enthusiast or new to the outdoors, this beautifully illustrated and masterfully organized survival guide, that simplifies Jason's decades of experience, will be an invaluable companion!"
-Jonah Evans, Texas Parks and Wildlife, and founder of NatureTracking.com
"Knight distills core survival principles and techniques into a format that ensures the reader will gain the confidence and know-how to be prepared for any emergency."
-Nicole Apelian, Ph.D., best-selling author and participant on the History Channel's Alone show
"Easy. Practical. Efficient. The Essential Skills of Wilderness Survival is a must have. It could save lives."
-Casey McFarland, biologist and coauthor of the Peterson Field Guide to North American Bird Nests



---
Author Bio: Jason Knight has been teaching wilderness survival skills since 1997, sharing the basics with thousands of people, while training hundreds of adults to become survival instructors. He has consulted as a local wilderness skills expert for the Discovery Channel and has been featured on NPR. He is a cofounder and instructor at Alderleaf Wilderness College, one of the leading outdoor schools in the United States offering courses on wilderness survival to the general public and a broad range of clients including the US Forest Service, the Seattle Mountaineers, and the cast of the award-winning film Captain Fantastic.



---

Order a copy today and receive our Special Bonuses...
Which includes our Survival Kit Checklists (lists for what to take when hiking, what to pack into a kit for your car, and what to put in a bug out bag for natural disasters). You'll also get access to our latest wilderness skills articles, a free survival training webinar, and special discounts.
(follow the 2 steps below to access the bonuses!)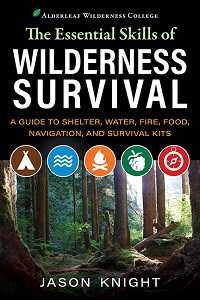 Step 1: Order from any bookseller, such as:
Purchase the book directly from Alderleaf through this link! 
(best supports our small school) or
Buy from a local store via Indiebound or Bookshop.org

Step 2: Come back here and register your book below to get instant access to the bonuses.
You'll get instant access to the survival kits checklist and survival webinar, and will receive monthly wilderness skills articles, advanced notice of upcoming courses, & special discounts. We never share your information. Unsubscribe anytime. View Alderleaf's Privacy Policy.
---
More Reviews:
"Having taught survival skills for nearly two decades, I strongly believe that the skills described in this book are not simply "wilderness skills", but are in fact critical life skills that every one of us should possess.The ability to take care of one's own needs in critical situations is not only essential, but also liberating and empowering. This book is a great resource on your journey of self-reliance and self-discovery and one worth having in your library."
—Dave Scott, survival and wildlife tracking expert, founder of Earth Native Wilderness School

"Whether you are looking to deepen your connection to the natural world or prepare for when things go wrong, Jason has captured the fundamentals of wilderness survival in an easy to read and well-organized book that is chock full of useful tips. This book will certainly be added to the cannon of required and suggested readings for all of our school's staff and participants."
—Scott Brinton, executive director of CedarRoot Folk School

"The Essential Skills of Wilderness Survival contains lifesaving information that's vital to have in a book, since the internet might not be there in a survival situation. There are few wilderness teachers who know their stuff as well as Jason Knight. He's written a complete guide that's 100% trustworthy. This is a refreshing book that tells you exactly what you need to know and leaves out the filler. I am positive that The Essential Skills of Wilderness Survival will be the most important book that you ever own."
—John Gallagher, herbalist, educator, and cofounder of LearningHerbs.com

"I spend a good deal of time in some wild country, often miles from the nearest trail or road. Whether tracking, hunting or running I always have a question in the back of my mind: Am I ready if I cannot make it back? Jason's book prepares you to answer that question. This book will leave you with a practical understanding of what fundamentals you need to prioritize and execute should that lingering question become a reality. This knowledge is spoken by someone who has not only mastered these skills but also mastered how to present them as an educator."
—Brian McConnell, wildlife tracker, Master Hunter and mentor, backcountry ultrarunner

"Everyone needs to know core survival principles and techniques. In The Essential Skills of Wilderness Survival, Jason Knight distills these skills and concepts into a format that ensures success. He couples this with full-color diagrams and photos to ensure the reader will gain the confidence and know-how to be prepared for survival emergencies. This book provides valuable guidance for new and experienced outdoor enthusiasts alike."
—Nicole Apelian, Ph.D., wilderness skills instructor, and author of four books including The Forager's Guide to Wild Foods: Edible Plants, Lichens, Mushrooms, and Seaweeds
"Having taught thousands of students and read many survival guides over the years, this book does a great job introducing people to the world of survival. This guide invites readers in and provides them with the knowledge to gain new skills and build on existing experience increasing their knowledge and confidence to venture further into the wilderness safely."
—Mike Pewtherer, author of Wilderness Survival Handbook and founder of Woodland Ways

"Jason's scientific and methodical approach to wilderness survival, combined with his helpful personal stories and examples, allow the reader to solidly grasp the basics of wilderness survival, so that they can take what they've learned and improvise depending upon their unique situation. This sets Jason's approach apart from others in his field. That's so important, because each survival situation, natural disaster or even backyard party have their own unique set of factors that need to be assessed."
—Kristi Dranginis, author of Identify Any Bird Anywhere and founder of BirdMentor.com

"Wherever you are on the journey of connecting to the earth, reading The Essential Skills of Wilderness Survival will build a solid foundation for lifelong learning in how to take care of yourself outdoors."
—Carleigh Fairchild, survival consultant, participant on the History Channel's survival show Alone, and creator of the "Connecting with Place" Series

"Jason Knight has created a distilled and efficient survival book with no BS. A great book for those who want to develop a solid survival foundation and learn from someone who has lived what he's teaching."
—David Moskowitz, biologist, photographer, educator, and author of three books: Caribou Rainforest, Wildlife of the Pacific Northwest, and Wolves in the Land of Salmon

"Jason Knight has put together an incredibly helpful and accessible guide to wilderness survival. Perfect for beginners, as well as seasoned veterans, The Essential Skills of Wilderness Survival is a must have for any survival enthusiast's bookshelf. I highly recommend it."
—Nate Summers, survival skills instructor and author of Awakening Fire: The Essential Guide

"As you might expect from someone with long experience both doing and teaching, someone also articulate and well-versed, Jason Knight presents brief and crystal-clear guidance to woodsfolk of all skill levels who wish to deepen their practice of essential bushcraft. Here you find the surest path through a rapidly changing environment."
—Nate Harvey, Senior Tracker and CyberTracker Evaluator, founder of TrackersTrail.com

"What a visually rich, concise and well-organized concentration of knowledge Jason has compiled from his years of experience! Filled with straight forward, easy to remember guidelines with accurate and clear, step-by-step visuals, this is ideal for those just starting out, or the already experienced looking for new tips and skills. Highly recommend."
—Heidi Bohan, ethnobotany educator and author of The People of Cascadia

"This is an excellent resource for those intending to be comfortable in the wilderness for any amount of time. If everyone took these contents to heart, we would have fewer searches for missing persons, and more outings completed successfully."
—Rob Speiden, Search and Rescue Instructor, professional tracker, and author of Foundations for Awareness, Signcutting, and Tracking

"Easy. Practical. Efficient. This is one of the rare survival guides that actually leaves the reader immediately more competent with just a few minutes of casual perusal. The concepts are superbly clear, the layout is easily navigated, and each principle is supported with crisp, well-planned photography. For those wanting to be better prepared and feel more confident on any excursion, this book is a must have. The inviting, engaging approach makes it just as beneficial for curious youngsters as it is for knowledge hungry, detail-oriented adults. Get a copy, read it, and leave it out for guests, kids, and neighbors. It could save lives."
—Casey McFarland, wildlife biologist, Senior Tracker and Evaluator, co-author of three field guides including the updated Peterson Field Guide to North American Bird Nests
"This guide is a must-read for anyone wanting to build their self-sufficiency skills, whether or not they spend time in the wilderness. Jason Knight's approach to teaching and learning survival makes this knowledge very accessible."
—Julie Stonefelt, Park Ranger and cofounder of Wild Homestead Living

"This easy-to-read book provides you with simple to use and fun to practice survival skills. If practiced, these skills will create calmness, and calmness is the most powerful survival tool to have."
—Adriaan Louw, Master Tracker and CyberTracker Evaluator, and co-author of Practical Tracking

"I have worked with Jason Knight for many years and can attest firsthand to his expert survival and tracking skills. In this book Jason offers a comprehensive survival guide containing clearly written and pictured how-tos for all the skills one needs to tackle wilderness, or any other unexpected challenges, and come out alive."
—Dan Stueber, flintknapping instructor and founder of Thunderstones Lithic Consulting

"What makes a great survival book? Practical, no-nonsense information. You'll find that with Jason's clear expertise and instruction. The Essential Skills of Wilderness Survival is an essential survival guide for everyone."
—Tony Deis, founder of Trackers Earth outdoor programs

"The Essential Skills of Wilderness Survival contains excellent descriptions and photographs of the core skills and techniques that will keep you alive when the unexpected occurs in an outdoor setting. Knight's decades of experience practicing and teaching modern survival and earth-based nature skills, the clear-concise format of the book, and the quality color photographs provide the reader with detailed instructions on how to practice for an emergency survival situation."
—Preston Taylor, biologist, Senior Tracker and CyberTracker Evaluator, and author of Tracking the American Black Bear

"The Essential Skills of Wilderness Survival is just that—essential knowledge for those who enjoy spending time outdoors in the backcountry. This concise, thorough guide provides the framework for those beginning on their journey of preparedness and self-reliance."
—Chrissy Roberts, owner and director of Quiet Heart Wilderness School
"The Essential Skills of Wilderness Survival provides an excellent, organized framework for learning the core competencies for emergency situations. Jason Knight has separated the wheat from the chaff in this book, which will allow you to focus on the most important survival concepts you need to know without distraction."
-Dave Boehnlein, permaculture consultant, educator, coauthor of Practical Permaculture, and cofounder of Rooted Northwest

"Jason Knight has the knowledge we all need and he's done an amazing job placing it in this book that is full of practical wisdom. If I were you, I'd start reading it right away."
—Victor Wooten, naturalist, teacher, Grammy-winning bassist, founder of VixCamps Center for Music and Nature, and author of The Music Lesson
"A beautifully illustrated and masterfully organized guide that simplifies Jason's decades of experience teaching the complex art of wilderness survival into a wonderfully accessible format. Whether you're a seasoned nature enthusiast or new to the outdoors, this book will be an invaluable companion!"
—Jonah Evans, Nongame and Rare Species Program Leader at Texas Parks and Wildlife; and founder of NatureTracking.com