Welcome to the September 2013 eNewsletter from Alderleaf Wilderness College!

In this issue...
1.) Special Tracking Workshop with Sue Morse!
New addition to the schedule - Join distinguished tracker, Sue Morse, to learn to interpret carnivore tracks & sign...
2.) Feature Article: Cob Oven Construction
Learn the steps needed to make this permacultural pizza monster, with photos and info from the oven built at Alderleaf...
3.) The 2013-2014 Wilderness Certification Program Launches!
The new class of students is off to a great start. Wish them well on their nine-month journey into wilderness skills...
4.) Upcoming Courses & Events!
Mushroom Foraging Class, Wilderness Survival Weekend Course, Wilderness First Aid Course...


---
Special Tracking Workshop with Sue Morse!
(New addition to the fall schedule)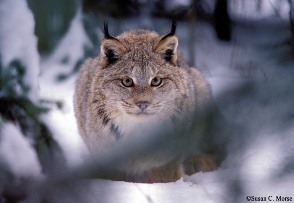 Join Sue Morse, distinguished tracker and wildlife photographer (visiting all the way from Vermont), to learn how to locate and interpret the tracks & signs of many forest carnivores, including black bear, cougar, bobcat, and lynx. Sue will also share on her recent research on carnivore scent marking behaviors. Learn more.
Date: Monday, Nov 25, 2013
Duration: 9:30am - 4:30pm
Location: Alderleaf campus in Monroe, WA
Cost: $95
Register to reserve a spot. Space is limited.

---
Feature Article: Cob Oven Construction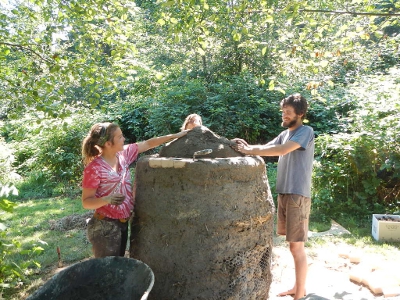 by Steve Nicolini
A cob oven is becoming a key element on any property whose residents are practicing permaculture. The reason for this is that earthen ovens perform many functions, including eco-friendly cooking, supporting outdoor dining, aesthetic appeal, gives a great reason to throw a pizza party (a.k.a. build community), and provides inspiration for further natural building projects.
Building the oven itself is quite easy. The difficult part is...(Read More)
---
The 2013-2014 Wilderness Certification Program Launches!

Our students have begun their nine-month journey to become stewards, survivors, naturalists, and trackers. This week half the class is on a field trip to the Oregon Dunes to study wildlife tracking, plant identification, coastal dune ecology, and learn new survival skills; while the other cohort learns bow-drill fire-making, survival shelters, and navigation.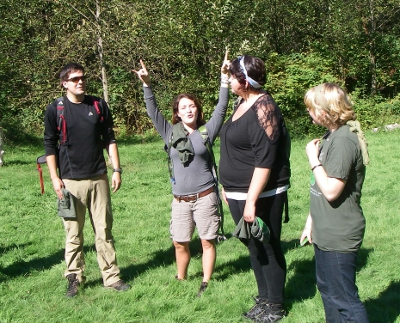 Please give a big warm welcome to all of our new students in the Alderleaf Wilderness Certification Program of 2013-2014. We're excited for another great year! Stay updated on their progress on the Alderleaf Blog.
---
Upcoming Courses & Events
Learn more about classes at our Courses page!


---
Considering the Alderleaf Wilderness Certification Program?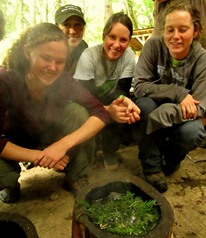 The application period for the 2014-2015 school year is open.
Classes begin September 9th, 2014.

Check out the Certification Program web page!
---
Did you know that Alderleaf has a blog and forum, and is also on social sites?
Check them out...
Alderleaf Commons Online Forum
Alderleaf on Flickr


Help Us Reach Out!
Do you know of any great websites that would be a good connection for Alderleaf? We can always use the support of other sites linking to us. Just reply to this newsletter if you have any suggestions or contacts for sites that would link to us and be a good match.
You can also mention us on Facebook, Twitter or any other way...every little bit helps Alderleaf affect positive change in the world through nature skills education! Thank you very much for considering this request!
---
Share the Alderleaf eNewsletter!
Do you know someone who might enjoy our free nature skills articles and program updates? If so, you can forward the Alderleaf eNewsletter to a friend!

If you received this issue from a friend, you can subscribe to our free eNewsletter by clicking here.

Privacy Policy: Alderleaf Wilderness College highly respects the privacy of our subscribers and never sells, trades, or otherwise shares your email address or other personal information with anyone else, for any reason, without your express written permission. Our e-newsletters always contain an easy way to opt-out (unsubscribe function) at the bottom of each email.
The Alderleaf eNewsletter is emailed approximately once per month. We pledge to never flood your account with emails.
Alderleaf Wilderness College
18715 299th Ave SE
Monroe, WA 98272
United States
(360) 793-8709

Visit our website to see new program information and more: https://www.wildernesscollege.com/index.html


---