Winter Birding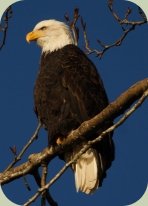 By Filip Tkaczyk
Who would think that winter birding would be a good idea? Seems like a better time to stay indoors, warm and dry, rather than be out in the cool moist weather. Winter, however, is an amazing time to be out observing birds. With the leaves down, birds are easier to view. It is also a time when different species show up, our winter resident birds.
Why winter birding?
You might be thinking that there is not much to see in winter. Many of the summer resident birds have flown south, the weather is more extreme, and many birds are much quieter overall. Believe it or not, there is a great deal to see and learn from birding during this season. Here are some of the many reasons to observe birds in the winter time in the Pacific Northwest:

What to do for winter birding?
Birding in winter can be enjoyed, whether you are out tromping around in the outdoors or sitting indoors next to a window. Here are some ideas for winter birding:
If you are a beginning birder, winter time is also the best time to practice and sharpen your bird identification skills. Birds are easier to observe and the variety of species is more manageable than the overwhelming diversity present in spring.
Alderleaf Wilderness College offers the year-round Birding Apprenticeship. Consider joining us for monthly field classes during the bird-filled winter wonderland of the Pacific Northwest!


---