Winter Field Trip: Week 18 - 2014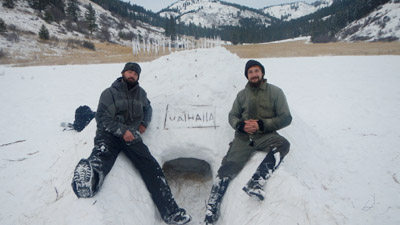 Week 18 of the Alderleaf Wilderness Certification Program saw our students and instructors heading up to the wilderness of the north Cascade Mountains.  It is an ideal environment to study winter ecology, survival skills and wildlife tracking in the snow.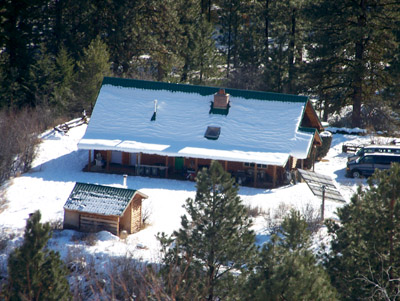 On Monday we arrived at Skalitude Lodge, a picture perfect cabin in the mountains that would serve as our base camp for the week.  The lodge operates off-grid, with electricity provided by an array of solar panels.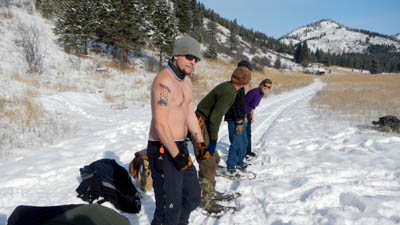 Our first order of business was our annual willow snowshoe race.  Students brought the willow survival snowshoes that they made in class and tested them against one another in a contest of speed and construction quality.  The winner had to cross the finish line first, and have intact willow snowshoes.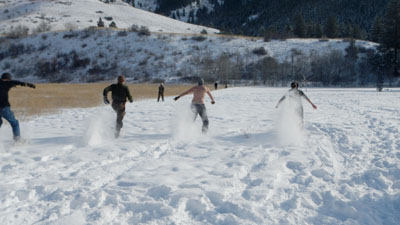 And they're off!  With their peers cheering from the sidelines, our racers balanced sheer speed against the desire to keep their snowshoes from falling apart!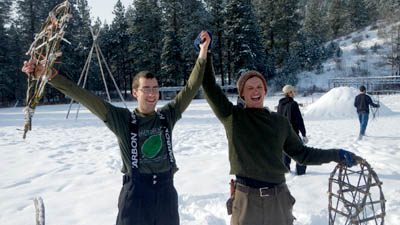 Our first and second place winners celebrate after a hard won victory.  Handmade willow snow shoes can be surprisingly durable if they are constructed with care.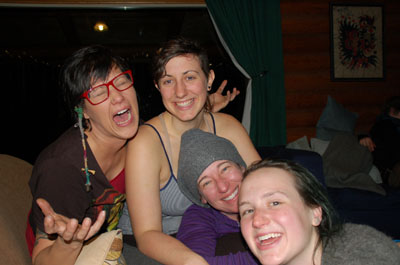 In the evening we retired to the lodge for a group dinner.  The lodge is also used as a classroom where presentations are given about winter ecology, wildlife tracking and snow shelter construction.  But most importantly it is a community gathering place where students can relax, peruse field guides together, and share their stories of the day.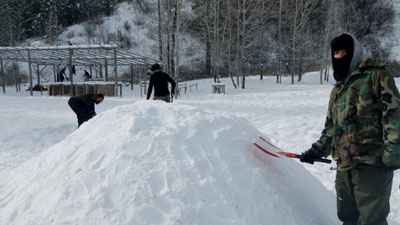 On Tuesday we awoke bright and early to start on our snow shelters.  Students live in their snow shelters for the rest of the week.  The most popular design is the Quinzee (or Quinzhee).  This snow shelter is constructed by first piling up a large mound of snow…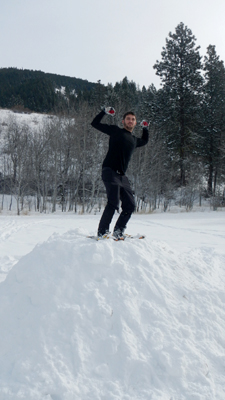 The snow mound is then compacted repeatedly to ensure that it has a solid structure.  The best way to compact it is to simply walking over it with snow shoes.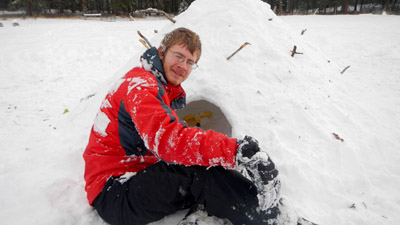 After the mound sits for a while (typically 30 minutes to an hour) the real fun begins!  The center of the mound is hollowed out by hand, creating a comfy, windproof and surprisingly warm shelter.  Sticks can be inserted at a uniform depth all around the outside of the mound to act as guides when digging.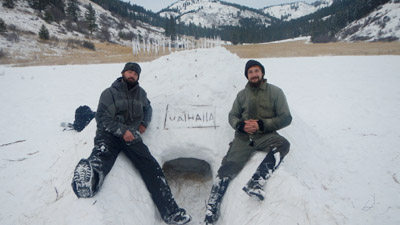 With their shelters complete, students move their gear into their new homes.  Some students even named their Quinzees.

Be sure to check out part 2 of this blog post!

---
Learn about the Alderleaf Wilderness Certification Program, our in-depth, nine-month course that trains students in wilderness survival, permaculture, ethnobotany, wildlife tracking, naturalist, and outdoor leadership skills.
---
Knowledge is Power - Grow Your Wilderness Skills! Get monthly updates on new wilderness skills articles, upcoming courses, and special opportunities. Join the free Alderleaf eNewsletter: