Winter Field Trip:
Week 18 - 2014 Part 2

Here is a continuation of the adventures the students of the Alderleaf Wilderness Certification Program experienced on their winter field trip.
On Wednesday, after a restful night's sleep in our snow shelters, we got to get up into the surrounding hills to look at tracks and sign in the snow.  The Northeastern Cascade Mountains wilderness is home to a diversity of species, including a few species that we don't get to see on the west side of the Cascades.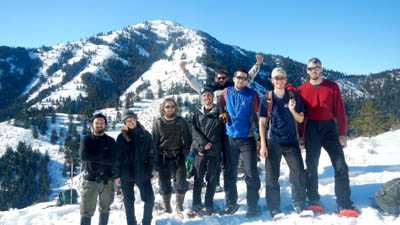 The weather was amazing and a lot of us were just as excited about the mountain views as we were about the tracking!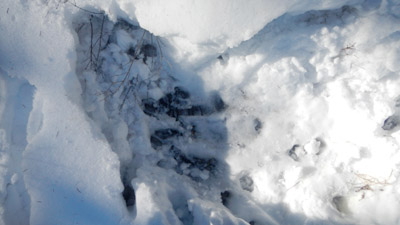 This fresh deer bed in the snow gave us a peek into the daily life of large ungulates in the winter.  It was a reminder that animals are the ultimate survivors, living and thriving outdoors in all seasons.

And speaking of survival skills… Our students are constantly challenged to push their fire-making to the next level.  Here is a fire that they got going in under 5 minutes in the snow!

Not only do we get to see tracks and sign left from animals, we sometimes get to see the animals themselves!  Student Sam caught this vole (Microtus sp.) with his bare hands after spotting it in the snow.  After a brief photo shoot, he gave the little guy some almonds and returned him to his subnivean burrow.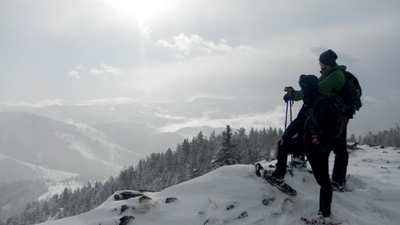 On Thursday we broke up into our 'choice board' activities with some students choosing to climb up to the top of nearby Lookout Mountain and others choosing to practice ethnobotany and survival skills.

A view from the top!  Just as we reached the peak of Lookout, a huge storm rolled in and blasted us with high winds, dropping our visibility down to practically nothing.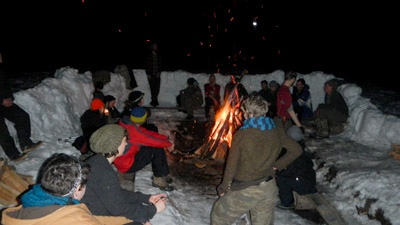 A beautiful moonlit night and a bonfire to celebrate our last night at Skalitude and the official half-way point of the Wilderness Certification Program!  Students laughed, reflected back on their experiences, and pondered what the next half of the school year would hold for them…

Packed up and ready to head home.  One final picture before leaving Skalitude, a place where we shared many adventures together, and a place that will remain near and dear to our hearts.

…Also we saw some Wild Turkeys (Meleagris gallopavo) crossing the road in front of our vans on the way out.  They left us a bunch of great, fresh tracks behind in the snow. 
Thanks turkeys!

---
Learn about the Alderleaf Wilderness Certification Program, our in-depth, nine-month course that trains students in wilderness survival, permaculture, wild edible & medicinal plants, wildlife tracking, naturalist, and outdoor leadership skills.
---
Knowledge is Power - Grow Your Wilderness Skills! Get monthly updates on new wilderness skills articles, upcoming courses, and special opportunities. Join the free Alderleaf eNewsletter: