Wildlife Tracking Apprenticeship: Highlights from Snoqualmie Pass 2014

Last weekend our Wildlife Tracking Apprenticeship took a trip up to the Snoqualmie Pass area to learn about tracking in wildlife science and trailing animals in the snow.  On Saturday we met up with some citizen scientist volunteers to walk a data-gathering transect for the I-90 Cascade Wildlife Monitoring Project.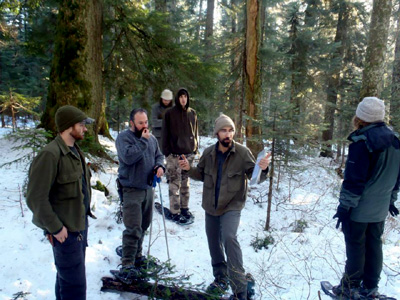 Our tracking apprentices learned how to gather data in a real life scientific study.  The Cascade Wildlife Monitoring Project is an ongoing study by Conservation Northwest about the effects of the I-90 highway corridor on the movement of large animals.  One of the most valuable tools used in this project is tracking.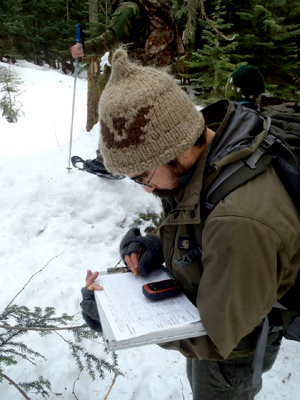 Our observations were recorded on data sheets to be uploaded into an ongoing CyberTracker GPS map.  This map can then be used to gauge where animals are crossing or interacting with the highway.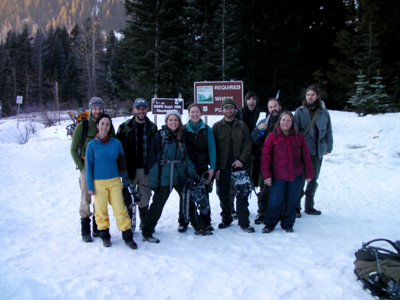 It was a great, fun filled day of tracking.  We got to work with some amazing volunteers in a beautiful, snow covered, old growth forest.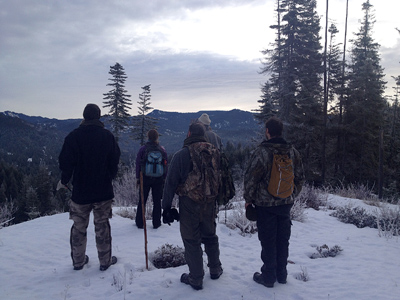 On Sunday we headed up to the Teanaway River and walked into the back country looking for interesting tracks and sign in the snow.  The silent grandeur of our surroundings reminded us why we pursue these skills, to reconnect with the wider world around us.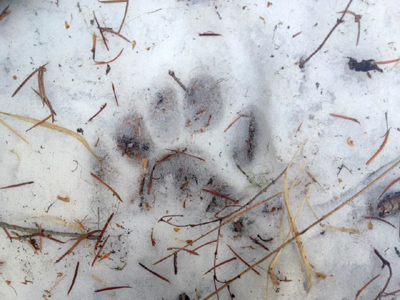 On our way back down to camp, we stumbled upon the impressive tracks of a Mountain Lion (Puma concolor).  We followed the trail of this elusive creature for over an hour.  We eventually lost him at the top of a ridge when he began avoiding the snow.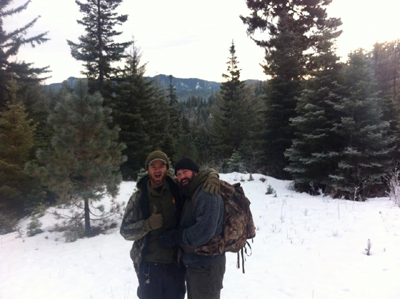 We wrapped up our weekend at the Cle Elum Bakery, a well-deserved treat after a full two days of studying tracks and sign in the snow and connecting with the natural world.

---
Learn about the The Wildlife Tracking Apprenticeship - discover the stories in animal tracks and sign! Become a wildlife tracker. Ten adventure-filled weekends.
---
Knowledge is Power - Grow Your Wilderness Skills! Get monthly updates on new wilderness skills articles, upcoming courses, and special opportunities. Join the free Alderleaf eNewsletter: