Course Highlights:
September-October 2014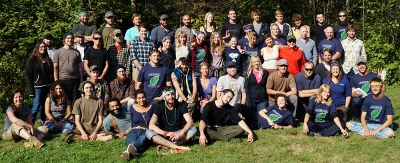 It's been a busy, fun-filled start to our fall season here at Alderleaf Wilderness College.  We have another school-year of classes in full swing showcasing a variety of wilderness skills.  Fall is a very special time of year in our community.  We get to meet the new students in our ten-month programs and introduce them to tons of wonderful outdoor skills!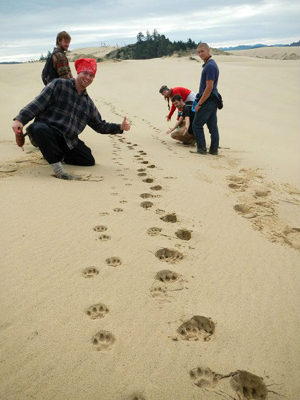 Our Wilderness Certification Program students went on their first field trip: a five day excursion to the Oregon Dunes.  This dune system provides us with a truly unique educational environment that mixes coastal forest with miles of open sand.  It is a great place for our students to start looking at animal tracks and sign.  In the above photo, one of our tracking groups came across the trails of a mother mountain lion (Puma concolor) and her two kittens.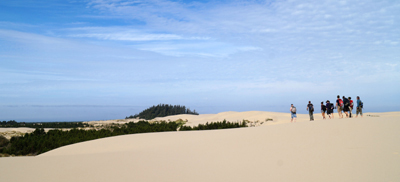 The Oregon Dunes trip exemplifies our teaching style here at Alderleaf: hands-on learning in the field with classes taught by dedicated professionals.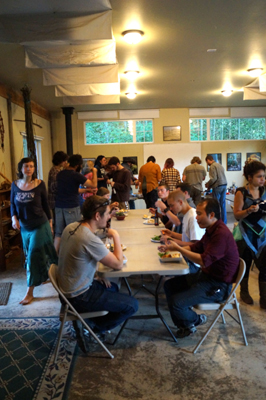 New students also means new communities!  Our monthly potlucks offer folks a chance to get to know each other outside of class time.  It's also a chance for people to showcase their culinary skills and share in the joy of good food.  Potlucks take place at 6:30pm on the second Saturday of each month.  Come on by sometime!

Here our Wilderness Certification Program students are learning how to build survival shelters out of sticks and forest debris.  Shelter is usually your highest priority in a survival situation, so we begin teaching it early on in the program as a fundamental survival skill.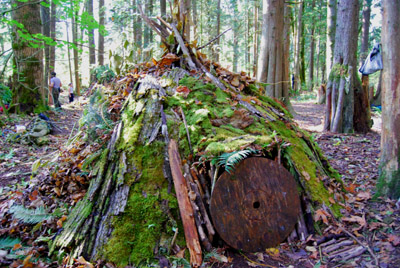 With enough work a survival shelter can be made to be downright comfortable!  There's something empowering about being able to go into the woods, build a shelter from the local materials and sleep comfortably through a long cold night.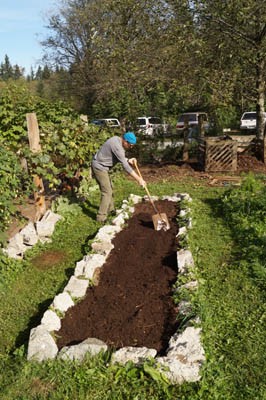 Fall is a time of hard work around Alderleaf Farm.  Kale, potatoes and garlic are among the foods that we grow and harvest to supplement our meals on our class field trips.  In addition, garden beds need to be mulched and prepped for the coming winter.  Every Friday we host a farm project day for folks to come volunteer and get more hands-on time with our various permaculture projects.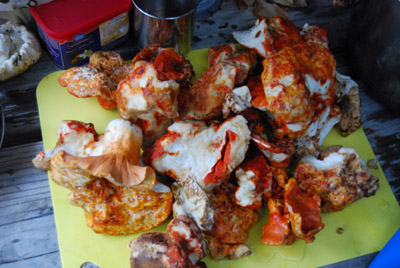 Fall is also a time of natural bounty!  Lobster Mushrooms (Hypomyces lactifluorum) and other delectable edible fungi can be found all over our moist northwest woodlands at this time of year.  Here, these lobster mushrooms are about to be added to a savory stew to feed our Wilderness Certification Students.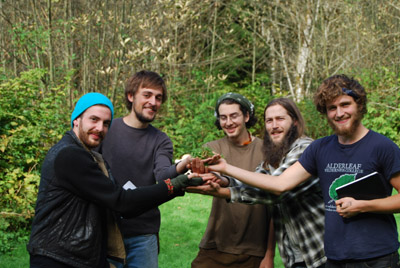 Another school year is off to a great start here at Alderleaf!  Be sure to check out our courses page to learn how you can get in on the fun.

---
Learn about the Alderleaf Wilderness Certification Program, our in-depth, nine-month course that trains students in wilderness survival, permaculture, wild edible & medicinal plants, wildlife tracking, naturalist, and outdoor leadership skills.
---
Knowledge is Power - Grow Your Wilderness Skills! Get monthly updates on new wilderness skills articles, upcoming courses, and special opportunities. Join the free Alderleaf eNewsletter: