Welcome to the September 2007 Alderleaf eNewsletter, the first issue of Alderleaf Wilderness College's free eNewsletter.

September 2007 Contents:

1.) Website Launches!
The Alderleaf website is close to fully uploaded...

2.) Tracking Article:
A World of Activity at Your Feet: Learning to Identify Vole, Jumping Mouse, and Deer Mouse Tracks

3.) Program Update:
Basic Stone Tools, day-long workshop on the Skykomish River


---
Alderleaf Website Launches
Alderleaf's website, www.WildernessCollege.com , is nearing completion. You can now surf over twenty webpages of information on the Alderleaf website. Stay tuned, several more program pages and articles will be posted over the next month.
Click here to visit the Alderleaf Wilderness College website


---


A World of Activity at Your Feet
Learning to Identify Vole, Jumping Mouse, and Deer Mouse Tracks

There is a wealth of fascinating wildlife tracking activity to be discovered in even the smallest pieces of habitat. Learning to track the small creatures not only can be captivating, but helps train our eyes to see finer details in the footprints of larger species.

Voles, Jumping Mice, and Deer Mice are three groupings of small rodents that can be found in most areas of North America. The following photos and information describe how to recognize the unique tracks they each leave behind.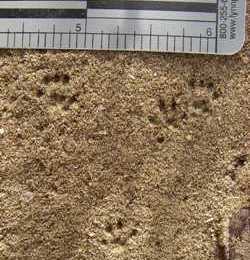 Deer mice (also know as white-footed mice or Peromyscus spp.) are a very common mouse found across North America in a wide variety of habitats. Their track is often described as having the classic rodent foot structure. Note the four toes on the front foot, five on the hind, and hopping pattern (four tracks grouped together). Their toes have bulbous tips and the overall track is relatively round and symmetrical. Different types of rodent tracks are often described with relative comparisons to this standard foot structure.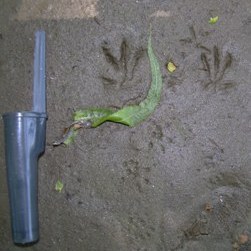 Jumping mice (Zapus spp.) are found in forested clearings, near wetlands, and grassy areas. As the name denotes, their primary method of travel is jumping. They have very large hind feet, a large tail that helps them balance, and can jump a distance of six feet at at time. Jumping mice leave very different tracks from the deer mouse, as jumping mice have very long slender toes that curve inward. The photo to the right shows jumping mouse tracks in the top half and deer mouse tracks moving in the opposite direction at the bottom half of the photo.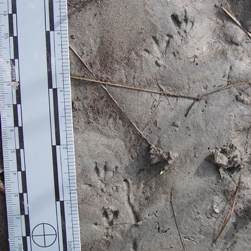 Voles (Microtus spp.) are found in meadows, fields, and near water. Rather than hopping or jumping, voles scurry, walk, and trot, often leaving a track pattern of groups of two tracks (a front with a hind track). These habitual creatures leave well defined trails in the deep grass where they feed on vegetation. Their tracks can be identified by their slender finger-like toes that radiate out from a central point, almost like a star. The photo to the right shows the tracks of a townsend vole, a large common vole in western Washington.


---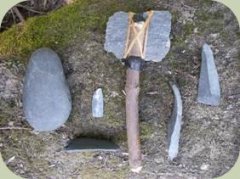 Basic Stone Tools Workshop on the Skykomish River
Sunday, October 14th
Before the advent of metal-working, all of our ancestors depended on implements made out of rock for survival. Stones can be shaped into a variety of functional tools, such as arrowheads, axes, knives, and grinding implements. Having a basic understanding of how to shape and use rock is an invaluable wilderness skill. In this day-long workshop, participants will learn how to make tools from common stones found in western Washington.
(find out more)


---


Feel free to share the Alderleaf eNewsletter. You can email this issue of Alderleaf Wilderness College's monthly e-newsletter to someone you know who might enjoy the free nature articles and program updates.

If you received this eNewsletter from a friend, you can subscribe for free to receive future issues by clicking on this link and adding your email address.

Privacy Policy: Alderleaf Wilderness College highly respects the privacy of our subscribers and never sells, trades, or otherwise shares your email address or other personal information with anyone else, for any reason, without your express written permission. Our e-newsletters always contain an easy way to opt-out (unsubscribe) at the bottom of each email.

The Alderleaf eNewsletter is only emailed approximately once per month. We pledge to never flood your account with emails.

Alderleaf Wilderness College
17921 175th Place SE
Monroe, WA 98272
United States
(206) 369-8458


Visit our website to see new program information and more: http://www.WildernessCollege.com/index.html


---