Welcome to the December 2007 Alderleaf eNewsletter, the fourth issue of Alderleaf Wilderness College's free eNewsletter.

December 2007 Contents:

1.) Great Locations for Tracking Animals, An Interactive Map
A new feature of wildernesscollege.com for finding and sharing great locations for tracking animals...

2.) Class on Tracking Mountain Lion, Black Bear, and Bobcat
Carnivore expert, Susan Morse of Vermont, will be teaching a special tracking course at Alderleaf in March...

3.) Hand Drill Fire-Making Tips: Part Two
Advanced tips for perfecting this primitive friction fire-making technique...


---
New! Great Locations for Tracking Animals, An Interactive Map
Alderleaf has just launched a new resource for finding and sharing great locations for tracking animals.

While wildlife tracks and sign can be found almost everywhere, there are unique locations that have ideal conditions. Great areas for tracking wildlife usually have two key attributes: a diversity of wildlife species, and excellent substrate, such as sand, mud, or dusty roads, that show clear tracks.

This is meant to be a growing resource where users can browse locations on the map, as well as submit additional tracking areas to be added!



Click here to view the Tracking Locations Map.



---

Rare Opportunity to Track Mountain Lion, Black Bear, and Bobcat with wildlife expert, Susan Morse!

Alderleaf Wilderness College is honored to be hosting distinguished tracker and wildlife photographer Susan Morse for a carnivore tracking workshop in the Cascade Mountains. Susan has over thirty years of experience interpreting wildlife habitat uses, with a specialty in black bear, cougar, bobcat, and Canada lynx.



Click here to find out more about the Carnivore Tracking Class.



---
Advanced Tips: Hand Drill Fire-Making, Part Two


In the November issue of the Alderleaf eNewsletter we covered the basics about creating fire with the hand drill method. This month we're picking up where we left off to offer advanced tips and techniques. If you missed last month's article, you can click here to read Hand Drill Fire-Making Tips: Part One.





Now that you've learned how to construct a hand drill kit and have a grasp of the core technique, there are several advanced tips that can help refine your skill, especially if you have had trouble with consistently producing a coal.

Floating Technique
When first learning the hand drill, creating strong downward pressure while spinning the drill often results in your hands slipping down the drill as you spin. When your hands get to the bottom of the drill, you then need to stop drilling for a moment while you put your hands back to the top of the drill. This causes the dust to cool down and decreases your chances of creating a coal. Floating addresses this issue.

The floating technique is a method where you spin the drill between your hands without moving your hands down the drill while maintaining strong downward pressure. This allows you to provide consistent, uninterrupted drilling, thus allowing heat to build up in the notch of the fireboard.

Floating is accomplished by moving your hands in an arc as you move them back and forth to spin the drill. The lowest point in the arc is at the drill in the center of your range of motion, while the high points are at the ends of your range of motion.See the photos below.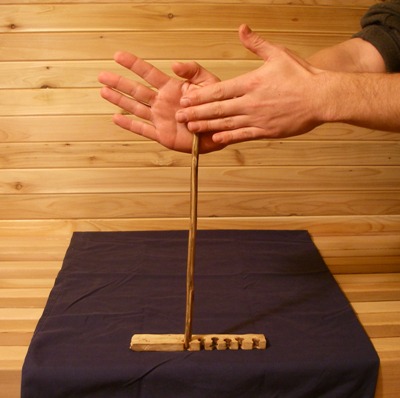 Floating Technique: Position 1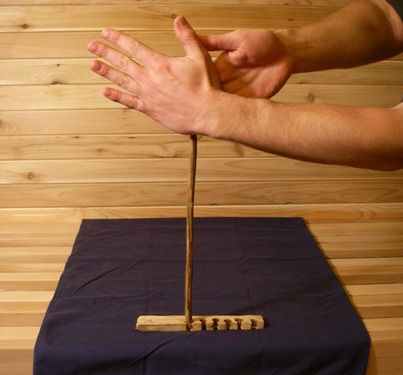 Floating Technique: Position 2
Though learning floating takes a bit of practice, once you are able to use the technique, coals are much easier to create. Floating works well during the first part of the drilling process. It allows you to build up heat and dust while moving at a jogging pace. Once you've filled the notch with dust while floating, you can then switch to a more vigorous pace that creates the extra heat needed to ignite the dust into a coal.
Body Position
One of the largest roadblocks to being able to create a coal using the hand drill is not getting enough downward pressure. Sometimes people feel that they are not strong enough to create the necessary downward pressure. This issue is easily remedied with a change of body position.
A common body position for hand drilling is from a cross-legged sitting position. Though some people can create a fire from this position, it requires a large amount of arm strength. The only weight bearing down on the drill and fireboard is that which can be created through using arm muscle strength to push down. See the photo below: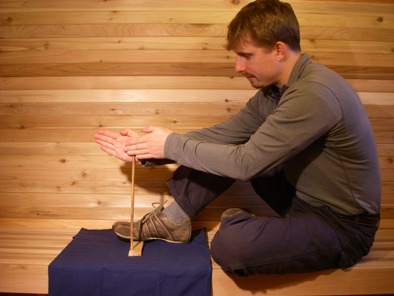 Cross-legged Sitting Position: Difficult to Create Downward Pressure


A more effective body position that allows one to create much more downward pressure simply by leaning, rather than using muscle strength, is to kneel over the hand drill kit. This allow you to easily bear down with all of your upper body weight into the drill. See below: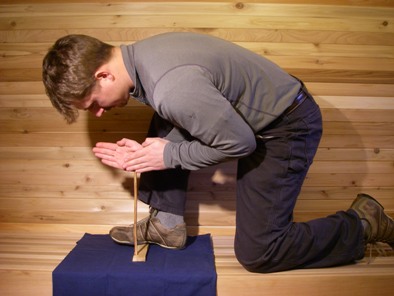 Kneeling Over the Hand Drill Position: Much Easier to Create Downward Pressure


By simply switching from a sitting position next to the fire kit to a kneeling position over the fire kit, many folks find they can now easily create the necessary pressure and friction to create fire with the hand drill method.
A Relaxed, Yet Firm Grip
Another helpful tip relates to how the drill is gripped between the hands. A common mistake is to hold the drill in a rigid manner while spinning the drill. This causes the drill to slip between the hands as it rubs across the joints in the hand. A rigid grip also causes your hands to blister.
A more effective grip includes relaxing, even loosening, your hands a bit while maintaining a firm grasp of the drill. This grip makes your hands seem almost sticky, like a firm rubbery substance. This allows your hands to have more surface area contact with the drill and thus have an easier time creating downward pressure, while significantly reducing the possibility of getting blisters. It is also important that your hands not be bone dry nor soaking with sweat. A small amount of moisture gives your hands a good tackiness that helps grip the drill.


By carefully selecting your materials, building a well-constructed kit, using the floating technique, good body positioning, and a relaxed firm grip, while pacing yourself, you will greatly increase your ability to create fire with the hand drill. We hope you find much success!
If you have further questions about the hand drill, feel free to email us through our contact form.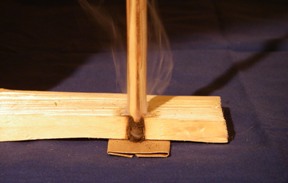 ---


Back Issues of the Alderleaf eNewsletter Now Online

You now browse back-issues of the Alderleaf eNewsletter on our website. Visit the Alderleaf eNewsletter homepage and click on the "view back issues" link.


---


Feel free to share the Alderleaf eNewsletter. You can email this issue of Alderleaf Wilderness College's monthly e-newsletter to someone you know who might enjoy the free nature articles and program updates.

If you received this eNewsletter from a friend, you can subscribe for free to receive future issues by clicking on this link and adding your email address.

Privacy Policy: Alderleaf Wilderness College highly respects the privacy of our subscribers and never sells, trades, or otherwise shares your email address or other personal information with anyone else, for any reason, without your express written permission. Our e-newsletters always contain an easy way to opt-out (unsubscribe) at the bottom of each email.

The Alderleaf eNewsletter is only emailed approximately once per month. We pledge to never flood your account with emails.

Alderleaf Wilderness College
17921 175th Place SE
Monroe, WA 98272
United States
(206) 369-8458


Visit our website to see new program information and more: http://www.WildernessCollege.com/index.html


---