Welcome to the July 2008 Alderleaf eNewsletter from Alderleaf Wilderness College!

In this issue...

1.) Plants That Repel Mosquitoes
During the summer months we often get asked how to repel bugs naturally...

2.) Undergraduate College Credits Now Available
We now have a credit option for students participating in the Alderleaf Wilderness Certification Program...

3.) Upcoming Courses
Wild Edibles Weekend Course, Trailing Animals with Adriaan Louw of South Africa, Tracker Evaluations...

4.) Welcome to Filip Tkaczyk!
Alderleaf is excited to welcome Filip, an exceptional naturalist, to our staff as a core faculty member...

4.) Open House / Work Party Reminder
Join us on our land tomorrow, Saturday, July 19th, or Sunday, August 10th...


---
July Feature: Plants That Repel Mosquitoes


Yes, its mosquito season again. But have no fear, we put together this month's feature article to help you keep them at bay, naturally, using plants from the forest or the garden.
---


Undergraduate College Credits Now Available

Students participating in the Alderleaf Wilderness Certification Program now have the option to receive 12 college credits through Western State College. The credits are transferable and consist of 4 credits in Environmental Studies, 4 in Biology, and 4 in Outdoor Leadership. The credits can be used towards completing a bachelor's degree.

Learn more by visiting our FAQ page


---


Upcoming Courses!

There's still space available in many of our summer/fall courses. Upcoming classes include:

Wild Edible Plants Weekend Course, August 23-24

Trailing Evaluation: two spaces available, October 2-3

Track and Sign Evaluation: one space available, October 4-5

Trailing Animals w/ Adriaan Louw of South Africa, October 8-9

Making Fire from Sticks: Survival Fire Skills, November 1-2


We are also still accepting applications for limited space available in the Wilderness Certification Program which starts on September 17th.



Visit our Course Information page to learn more and/or register.


---
Alderleaf Welcomes Filip Tkaczyk to our Staff!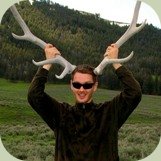 Filip is an experienced naturalist who has extensively studied the ecosystems of Washington state for a decade. He has joined our staff as a core faculty member. He has led bird walks with Seattle Audubon and taught tracking/outdoors skills to adults and youth for various organizations such as the Wildlife Society. Filip has worked with the Olympic National Park conducting bat research, and for the University of Washington, leading an in-depth study on nutria in the Seattle area. He is also a professional nature photographer who has captured wildlife images around the world. For enjoyment, he gleefully pursues his childhood passion of obsessively studying the mysteries of the natural world.


Click here to visit Filip's nature blog.


---
Open House / Work Party Reminder
Spend a day at the Alderleaf campus. Join us for a tour of the property, work party, potluck, and celebration. See our almost completed classroom remodel. Free and open to the public!
Saturday, July 19th, 10am to 6pm (Tomorrow!) or
Sunday, August 10th, 10am to 6pm
Schedule:
10am: Welcome and Tour of the Property
11am-5pm: Work Party Projects (such as trail maintenance)
1pm: Potluck Lunch (bring a potluck item)
5pm: Dinner and Music Jam: Local gourmet pizza provided
-feel free to bring an acoustic musical instrument
Wear outdoor clothes that you don't mind getting dirty. Bring gloves and outdoor tools (such as pruners or loppers) if you have them. Hope to see you there!
Directions to Alderleaf from Downtown Monroe: Drive south on highway 203 out of downtown Monroe. Take the second left after the bridge, onto Ben Howard Road. Follow Ben Howard Road east for approximately six miles. Turn right onto Cedar Ponds Road and follow it up the hill about one mile. Cedar Ponds Road curves sharply to the right, changes names to 299th Ave SE, and turns into a dirt road. We are the second driveway on the left after the paved road turns into a gravel road. Our address is 18715 299th Ave SE, Monroe, WA 98272.


---


Back Issues of the Alderleaf eNewsletter are Available Online

You can browse back-issues of the Alderleaf eNewsletter on our website. Visit the Alderleaf eNewsletter homepage and click on the "view back issues" link.


---


Feel free to share the Alderleaf eNewsletter! You can forward this issue of Alderleaf Wilderness College's monthly e-newsletter to someone you know who might enjoy the free nature articles and program updates.

If you received this eNewsletter from a friend, you can subscribe for free to receive future issues by clicking on this link and adding your email address.

Privacy Policy: Alderleaf Wilderness College highly respects the privacy of our subscribers and never sells, trades, or otherwise shares your email address or other personal information with anyone else, for any reason, without your express written permission. Our e-newsletters always contain an easy way to opt-out (unsubscribe function) at the bottom of each email.

The Alderleaf eNewsletter is emailed approximately once per month. We pledge to never flood your account with emails.

Alderleaf Wilderness College
18715 299th Ave SE
Monroe, WA 98272
United States
(206) 369-8458


Visit our website to see new program information and more: http://www.WildernessCollege.com/index.html


---